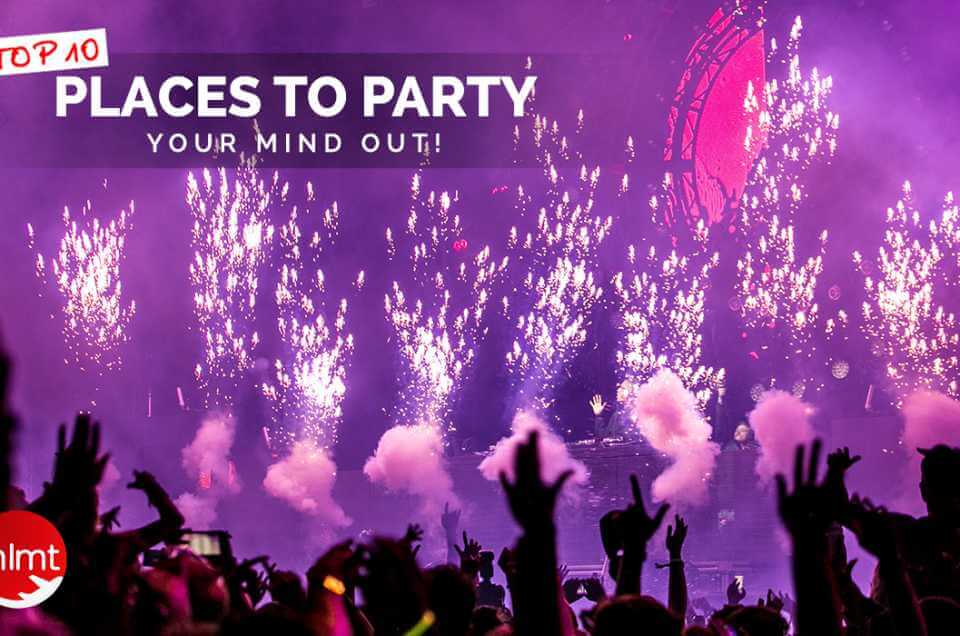 Put your hands right up in the air! No, we are not out to arrest you. Just to show you a great time. We have been taking the globe and converting it into a disco ball one place at a time. Shut your eyes and see it the way we see it. Lights bounce off everything. Days that turn into night and nights that turn to days. Blurred vision. Dancing till your legs hurt and till your hearts dance in sync with each other. You get to leave everything behind and just feel happiness course your veins.
There are so many spots now that every mood of yours gets a thousand places. This is your opportunity to dress up and join the party. Let us find the best place for you and your squad to hit!
Here are some of the most famous party junkie places in the world!
1. Amsterdam, Netherlands

The city where parties don't ever stop. At any point of time you can find a party up and in business. But if you want a party that really, really sticks go beyond midnight. You will wake up, lying on the road, not remembering the previous night. The most well- known spots will have people from all over. No better place to meet people than here, really.
If morning is not a good enough ending for you, they also have a tonne of places for after party. If you want to get the most Amsterdam experience ever, go to a bar with bright colours and ask for some brownies. We promise you, you will not regret it.
2. Las Vegas, USA

Aha! Does this place ever need an introduction? Close your eyes and see Las Vegas in its truest form. Palm trees dot the place. Bright colours right in your face. Your senses are in for a treat here in Vegas. There is no forgetting this sight. And then you step foot in a casino. This is where your eyes would turn into dollar signs if it were a cartoon.
Las Vegas is the place that puts a drink out to your desires. The place that invites you to be who you are without thinking for a second. Stack your coins or dance to your hearts content. Las Vegas welcomes all!
3. Rio de Janeiro, Brazil

Cue. Exotic music. Because here is Brazil with its own twist on the word party. All day, all night, beach party. That is how Brazil does it. We assure your right at this moment. This place has every delicious, pure offering that the world has to offer. It will quench every thirst. You can feel the aura of bash coming off the city even as you step in. The seven million population of this city bobs its head in confirmation! There is not one place better.
When you come to Rio you will realise that no other place could pull this off. No one could have the level of pompousness and energy and colour that Rio de Janeiro completes to perfection. So, put on your party hats and experience the best life can get you.
4. New York, USA

AHH! The city that does not sleep. So, what does it do as it stays awake all night? It parties. Walk out of the airport and right into a party. New York is an institution in the world of party. There is no other place in the universe with as much action 24/7 as there in New York. There are parties in basements with 20 people and a huge band playing an underground show. There are parties that house a million people. This is one of the biggest cities in the world and once you enter the party scene, you can see why.
Once you party in New York the high will never go. The vibrancy of the nightlife is used to the maximum by its humongous population. Every night is just an opportunity to party harder.
5. Berlin, Germany

If Germans know one thing well, its their Alcohol. The tales of Oktoberfest spread across the lands. The vivid diversity of the party life in Berlin will rival any place and win. Amsterdam and Berlin stand neck to neck when it comes to party. Germany welcomes all. Berlin is the most liberal centre of party there is. Europe stands here proud, Berlin one of its top spots.
It begins with rock, techno and alternative rock clubs. Berlin thrives well in the past. Here is the element you would not expect. Fetish Clubs. Of all kinds. Come here with the open mind. And you will find a lot others just like you.
6. Ibiza, Spain

The names takes us all to a place of wonder. There is not one party- fanatic who has not heard of this place. You go here to lose yourself. You go here to find yourself. It is the World's Capitol of Party. The longest party even goes up to 8 am. Have your breakfast and a shot in the same go. The party never really stops. It is not just fun, it is sport. Those who party in Ibiza on a regular basis
wake up around the afternoon and prepare up for the night of festivities. You make a lifetime of friendships in your time in Ibiza. The buzz and the energy, it never gets old. If you want to go for a foam party at Amnesia you need all the energy you can get, so rest up.
7. New Orleans, USA
The city is not the loudest at the normal time. But then it turns to night and the city entirely wakes up. You will never see a city in as much power as New Orleans. They do events like never heard of. The city is known mostly for its French architecture and their heritage from all over. Their cuisine, their food and their culture will make you rejoice with everything you have. And we need to say nothing to explain Mardi Gras to you. Nightlife is what New Orleans does best.
Make sure you step outside and go into the Bourbon Street. While you are at it, go up and ask for a Hurricane. This is the signature rum drink. Get it in a cup and enjoy the Bourbon Street at its best. New Orleans also has a great bar hop sequence.
8. Mykonos, Greece

There are a lot of party destinations in the world. But to add an exotic front is Mykonos. Only the most hardcore of party goers will know a place like this. It is not a place for mere kids. It is a playground for all the crazy people in the world. The dance begins in the afternoons and goes up and above into the dark nights. The beaches accommodate for the best parties ever.
There are some amazing restaurants that stay open all night to cater to all the late-night hunger needs. This is where you stock up on energy needed for the party. The craziest of parties are in August. All of Europe switches their life down and goes of for summer vacation.
9. Manchester, UK

This is not a seasonal party spot, it is a spot for every day. Every weekend more than 12,000 people enter this zone. The zone that does not let you go. The city has many such spots of grains that pigeons flock off to. It is famous not for just the mindless party, but generations of great music and even greater crowds. It has dedicated a lot to live music and bands. The Smiths began right here. Manchester welcomes the struggling artists and the ones no one wants. This is where their journey begins.
There is a lot for the dancers too. Many hip hop and techno bars dot the perimeter. Manchester is one of the best.
10. Tel Aviv
Tel Aviv. The rising star. The brightness of the upcoming hub is matching all the others and even going beyond. The culture of all- night party and music. The city is as open as it can get. The liberal attitude of this Israeli city is all that is required for some of the best festivals in the new world. There are some crazy festivals that will make your eyes go wide.
Besides this, the everyday clubbing rituals are just as bright and loud. Tel Aviv is the hub of the young. It is the spark that gives fire to the young blood.
As the year comes to an end, the party spots begin to glow. This is the time for downed liquor and forgotten problems. Let go of the past year and start the new one with the top party spots in the world. Take your glass and raise it right up in the world, to people all around just like you. And party till dawn comes up!