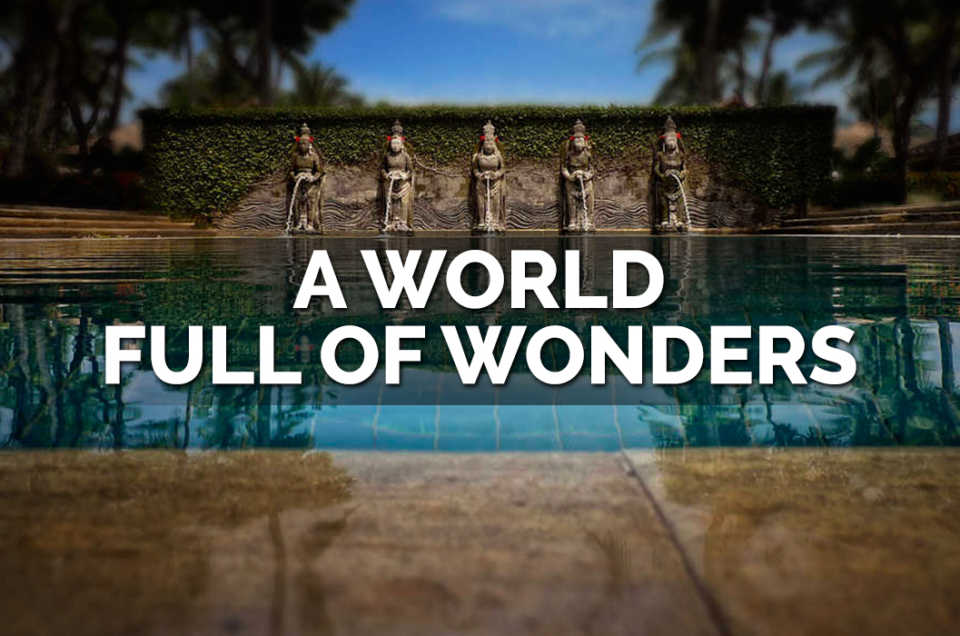 Our world is a place which has great abundance of wonders, some discovered some waiting to be discovered, some made and some in the making. Regardless of whether natural or man-made, it's difficult to deny the phenomenal excellence and assortment of scenes the world brings to the table. Knowing each and everything is not possible but there are a few things that are of great surprise and brings in a lot of interest to places. Some places are known for things that are peculiar in some way or other, these are the things that make a difference and help these places create an identity.
Let's take a look at some of such interesting facts about some places that will surely make you want to go there and be witness to all that these places have to boast about.
Here's MLMT presenting a list of travel destinations and what's new in store for you there. Ready?
Amsterdam: all about number. Didn't understand? Don't worry. Read on.

The majority of the structures in the city are bolstered by 15 to 20 meter long wood shafts that sink through the mud and are fixed in a sandy layer that is 11 meters deep by and large. That's 11 million wooden poles.
There are a total of 1,515 bars and cafes in Amsterdam. You'll never have to be hungry at any given point of time in the day.
Amsterdam is home to the highest number of nationalities out of any city, making it the most international city on the face of the earth.
The city has 1,281 bridges and 2,500 houseboats. The number of houseboats for cats has not been included in the count. Cats! Yes, you heard it right!
The city hosts 20,000,000 tourists every year. Excluding you of course, but you are thinking about going aren't you?
All you coffee lovers, you've got some company. Amsterdam is the second largest consumer of coffee in the world.
2. Spain: The third largest heritage country according to UNESCO.

Spain is world's third most popular tourist destination and the fourth most visited country in the world. On the off chance that the Spanish travel industry keeps up its present force – having seen the development of around 5% throughout a previous couple of years, it will before long be competing America and France for a definitive best spot.
It boasts the second highest number bars per inhabitant. Just imagine the number!
Spain has more than 8,000 beaches. Tempting in this weather isn't it?
Spain produces 43.8% of all world's Olive Oil, now that some claim isn't it?
The biggest privately owned Football stadium: Nou Camp, a must visit for football fanatics.
3. Switzerland: The happiest place to live in. Certified!

1500: A country that is totally surrounded by land, 1500 lakes isn't bad which is why Switzerland is also known as the Land of Lakes.
Transport system: One of the world's best and safest in the world. Switzerland's public transport is well-protected and efficient. Trains, cable cars, buses, and boats spread and cover the whole nation. There are likewise cycling routes.
There are around 1,200 water fountains in Zurich, giving a free wellspring of mountain spring drinking water all through the city. These fountains are exceptional art pieces, which will not only quench your thirst but may likewise lift your spirit.
Produce the most number of chocolates in the world: The making of chocolate is an essential source of money for the nation. Zurich is regularly viewed as the establishment of the nation's chocolate creation. Widely acclaimed chocolate brands that started in Switzerland incorporate Nestle, Toblerone, Lindt, and Sprungli.
Sonnenberg tunnel/bunker: Opened 40 years prior at the start of the Cold War, the Sonnenberg bunker in Lucerne was one of the largest public fallout shelters on the planet and is as yet operational today.
4. Dubai: The city of skyscrapers.

Love for gold: The Burj Al Arab hotel uses so much gold that it is enough to cover the Mona Lisa painting 46,265 times. Fascinating? Well, there more.
The world's only 7 star hotel: Burj Al Arab is the most luxurious hotel one can see in a lifetime. The Royal Suite positions 12 on the rundown of the world's 15 most costly hotel suites at an incredible US$18,716 per night.
Good news for you, while in Dubai you don't have pay taxes for anything.
The largest man made island: Dubai is larger than life in every aspect. Palms Jumeirah, the palm tree shaped island is the largest man made island. It is even visible from space.
Longest automated metro: The longest driverless metro line is the Dubai Metro Red Line which is 52.1 km long.
World's largest flower garden: Earning itself the name of the world's biggest natural flower garden, the 72,000-square-meter fascination has in excess of 60 million flowers to showcase.
5. Bali: The island of Gods.

Bali has an approximate of 1,200 spas. The pampering level differs, you can have a massage in as less as for US 10, or decide on a five-star treatment in a sumptuous suite.
No door policy: As Bali believes in welcoming everyone, they have a no entrance door policy which is followed by all the citizens. You are in for a surprise!
Bat cave: Pura Goa Lawah, a standout amongst the most beautiful temples in Bali, was made by Dang Hyang Nirartha, a Hindu priest from antiquated Javanese times amid his pilgrimage. The cave temple, highlighting worshipping shrines built around a cave opening, is home to a great number of bats and, if the legend is to be believed, a mammoth size king snake wearing a crown.
Only 4 names: People in Bali aren't at all creative with names. They have only 4 names for children and that too in the order of which they are born. So, the first born is called Wayan, the second is called Made, the third is Nyoman and the fourth one is Ketut. In case there's a fifth child the cycle of names starts from Wayan again. Don't believe us? Well, come and see for yourself.
Bali is home to more than 3,000 species of fish. Come see them. Not all at once of course! You cannot visit Bali just once.
6. Hong Kong and Macau:

Hong Kong:
World's largest covered escalator: stretches over 800 metres, Central–Mid-Levels Escalator in Hong Kong gives a fantastic chance to bounce on and off and roam around probably the best markets, antique shops, galleries, historical structures and eateries around the local area.
Richest cities in the world: there are more Rolls Royce per person than in any other region.
The Tsing Ma Bridge is the world's longest road and rail suspension bridge and a Hong Kong milestone.
Macau:
The first and last Asian European colony.
Is the proud owner of the Largest casino and the oldest in the world, also known as the world's most successful gambling city.
Has the world's highest bungee jumping for adrenaline junkies.
7. Singapore: The land of shopping malls.

World's first Nocturnal zoo and safari: With over a million guests consistently, Night Safari and night zoo rapidly rose to be the most prevalent fascination in Singapore. The zoo is home for 36 endangered types of creatures which enjoy a natural habitat without being hurt by predators and poachers.
Largest fountain in the world: The Fountain of wealth is recorded by the Guinness Book of Records as the largest fountain in the world, and is situated in one of Singapore's biggest shopping malls, Suntec City.
It is fascinating that the citizens of Singapore don't need a visa to enter North Korea, South Korea, China or the U.S.
Proud owner of the World's second highest observation wheel. The gigantic wheel enables views on close-by Malaysia and Indonesia. Every one of the 28 ​capsules is about the measure of a small bus and can hold 28 riders.
Largest tropical orchid garden: Singapore Botanic Gardens is officially the most famous and iconic garden in the city-state. It's the first fascination in Singapore to be named a UNESCO World Heritage Site and the world's first tropical garden to earn this title. Supported by the tropical atmosphere, it houses the biggest orchid collection of 1,200 species and 2,000 hybrids.
Wanted to know more? Well, you can always go to these places and explore them yourself. These facts were just a few of the hundreds and thousands of fascinations all around the world.
Places are waiting to be discovered, so what are you waiting for? Good things in life shouldn't be kept waiting, especially Vacations!