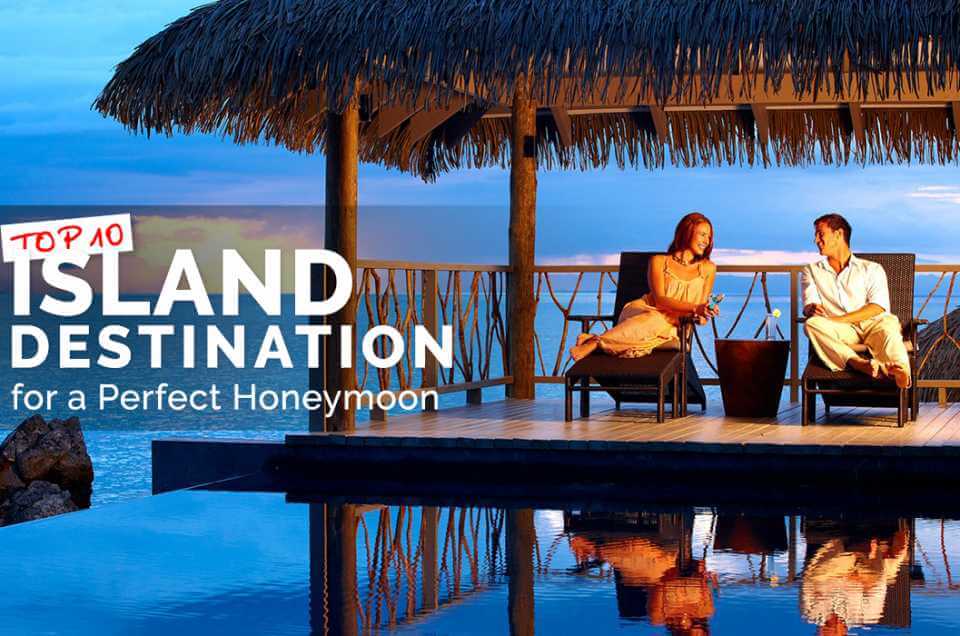 Marriage is the most crucial time in a person's life, and the honeymoon is the best trip one can ever take.
With millions of overcrowded spots to run after, oceans overflowing with people, there are no proper places to run away to in your "Just Married" car. But do not fret. We have paradise hidden in parts of the world. Shut your eyes. And transport yourself to tranquil beaches. To hammocks under the canopies. To golden specks of sand. On vacation like never before.
Here is an extensive list of Island Destinations that set up as the best Honeymoon spot for couples.
Mauritius

Mauritius is all about relaxed, cyan blue see-through waters. It is about a gentle breeze rustling your face. The pure white beaches resemble a tide advert. Come and set yourselves right in front of some of the best views in all of the Indian Ocean. Mauritius, according to Mark Twain is heaven. Luxury is the first language spoken here. From spas that treat you like gods and restaurants that have rooms filled with the best of delicacies.
Mauritius is that comfy mattress that you never want to get up from. It reels you in with its beauty and keeps you rooted with all of the more exceptional things in life. The food is exquisite and is adapted from everywhere in the world. Your senses are in for a treat here in Mauritius.
Galapagos

This is the place that will change the way you see the world. They are not your typical paradise islands. In fact, at first sight, you will see that it resembles a sad, barren land more than a stunning. Lush island. But do not judge them too harshly. The creatures that call this place home will find your heart and make a home for themselves there. Their innocent, doting eyes will make your heart melt.
The islands might be extremely popular and significantly developed, but they still retain the beautiful, powerful isolated volcanic island feel. There is no place quite like the Galapagos islands. It is an excellent specimen of the sheer power and beauty of nature. Whoever you are, you cannot miss the greatness of a place like this.
Fiji

Fiji is unreal. It is the stuff of dreams. Reality is a blurry edge here. The sands that shine, entire worlds hiding underwater, swishing palm trees. You now get to be on a seasoned movie spot. These islands have ended up on movies like Cast Away and The Blue Lagoon. The underwater life goes on deeper and deeper. With coral reefs of colors never even seen and fish that nuzzle with you, this is precisely what you are looking for. The water activities like snorkeling and diving will keep you engaged for years.
But the beauty of Fiji extends beyond just the waters. Shake out the sand out of your pockets and venture out into the jungles. The forests are filled to the top with wildlife. The birdwatchers and hikers are in for a treat here. The local life in Fiji will also get to you. From their smiles to their food, everything will make you want to stay there.
Mallorca

The Mediterranean shines with the beauty of this ethereal island. Mallorca always smiles brightly with its extraordinary beaches, mountains hidden under the rock and hills towns packed with culture. It is the true essence of the Mediterranean. The limestone spires are quite a ride for cyclists and hikers all over. Vineyards, stone villages, and monasteries atop the hills.
For many years Mallorca forgot all about its culture. But now they have started learning how to embrace it. They have begun refurbishing the island's old manors and fincas. Take a silent, deep breath of fresh air as you step into the olive and almond groves. This aroma? It is the very essence of what Mallorca is. The food is scintillating here. Typical recipes passed over centuries through grandmas clubbed with a sprinkle of pixie dust all over the world make for the wrenching hearth cuisine of this place.
Capri

Capri is the definition of pure beauty. Urbanisation and buildings don't come into to tamper these unadulterated lands. Cliffs jut out to unbelievable heights over the clearest of seas. Villas hide under the canopy of the never-ending beauty of bougainvillea. Everything in Capri looks like it was meticulously carved out by something more significant than the man himself.
Celebrities from all over come to this land to get away from the commotion. This is the land of fresh airs. Capri will take from you a nugget of gold. But nevertheless, it is worth every paisa you spend here. Capri is the place that poets rave about. Go hide in the haven of Villa Lysis. Go get lost in the winding lanes of Anacapri.
Canary Islands

This is not just an island. It is an entire mini world in itself. It captures all the experiences you and your partner might dream up. With the almost cooked volcanoes, sites from the prehistoric times, coves hidden under layers of rubble, Sahara style dunes till your eyes can see, there is a happy place for everyone here. Unlike so many other islands, the Canary Islands boast of almost perfect weathers.
With so many diverse landscapes and a near standard weathers, the Canary Islands are a never-ending array of experiences. You can go out and go across trails and long, mountain treks. You can go deeper and venture into the countless water activities. Or you can let go of all the commotion in the world and lie down at one of the many, many beach spots. The local art is also quite a scene to behold.
Corsica

Corsica is everything. It is a landscape of dazzling beaches. It is colorful coastal villages and towns. It is hidden coves behind deserted beaches. It is rough mountain edges. It is forested as deep as the sea. A vacation in Corsica is a visit to every place in the world. You will never come back normal. Your eyes will always see the world differently once you see Corsica. All the activities you want from snorkeling on a boat trip to local wonders.
Though Corsica has been a French guy for more than 200 years, it is still it's very own. The traditions, customs, and beliefs set by these people are all very Corsican. The smiling locals always love to tell their tales over campfires, good food, and wine. There is still symphonic music involved.
Andaman and Nicobar Islands

These do not need an introduction for sure. The tales of this place reverberate all around India. Every household lights up at the name of the paradise. The dream vacation for all, Andaman and Nicobar. These shimmering waters and islands topped with powdered sugar call towards everyone looking for the best dessert. The locals aren't all locals. The happy crowd comes from all over, from the south and southeastern Asia to the tribal area.
These beautiful islands are about 572 in number. They lie between the Indian subcontinent and Myanmar and Indonesia. Havelock is the most well-known of these. Nicobar, however, is shut off entirely to tourists because of settlements of tribes.
Maldives

Take a deep breath. You are now lying at the sunny, stunning white sand beaches with tranquil, turquoise water shimmering beyond you. Everywhere you look around you see luxury. Sit in a hammock by the bay with the love of your life, with not a soul in sight. Sip your hot coffee as you gaze into the sea. You couldn't ask for a better honeymoon.
The Maldives, with its 1200 islands gives you an array of choices like never before. Each better than the other, Maldives offers you the best island-hopping experience. With so many islands, come so many restaurants. Somewhere in the Maldives is a private beach resort reserved just for you. The beauty of underwater Maldives is unparalleled. It will take you on a journey to another world. The Maldives is the experience of a lifetime.
Seychelles

This is the hot goss in India's honeymoon scene. Everyone secretly has their eyes on this tranquil delight. Here's why. With is celebrated pink beaches and it's UNESCO sites and the rare animals that wander around the place, Seychelles is a roller coaster of experiences. Just like love.
Some of the best beaches in the world hide here. Take a couple's class to learn how to make rum. It is not something you see every day. The underwater life is beyond stunning. And the best of all, even after getting to the top of the charts, Seychelles has managed to maintain its quaint, cutesy village charm.
Honeymoons do not come around too often. They are a trip to savor and cherish for all your life. With these destinations, we want to make sure this precious trip of yours is etched in your mind forever.