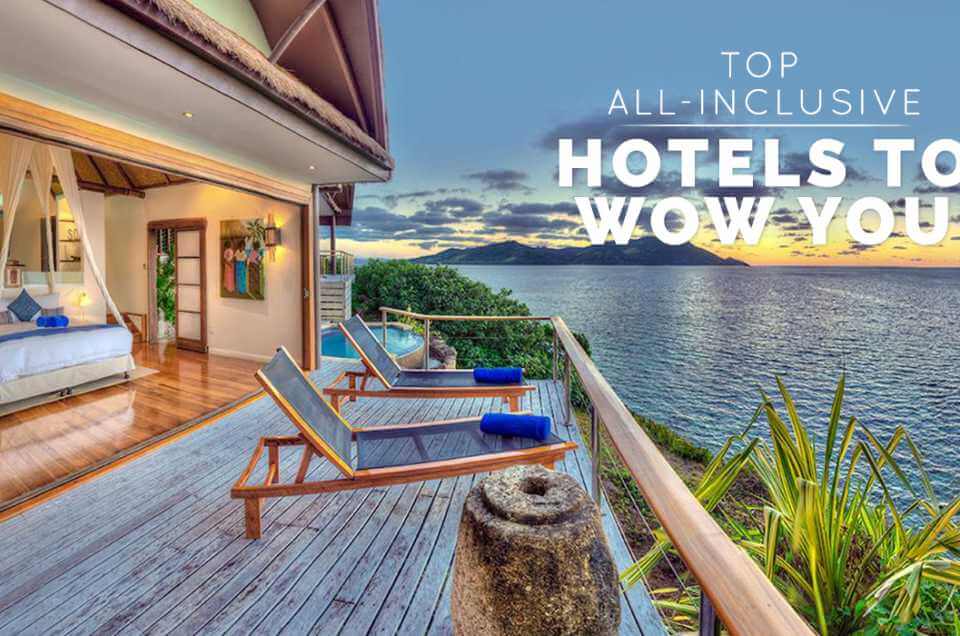 Welcome. Paradise awaits you. There is just nothing better than disappearing inside a mattress and knowing that your entire getaway is taken care of. It is like having your personal miracle worker. These all-inclusive hotels only care about shooting the highest amount of comfort your way. Travel always comes with a tonne of unsaid worries. Sometimes all we want is to get away. These hotels take you in, wrap you in a bundle and treat you like the baby yourightfully are.
You slip in your smart card and open your eyes to hotel rooms that will stun you. You wake up with the sleep still laden in your eyes,and you walk down to that yoga retreat with a beetroot drink as an aftertaste. It all works at your snaps.
To all the Glam packers out there, this list is going to make you go gaga.
Constance Moofushi, Maldives

If there is any place in the world that screams of luxury and serenity,it is the Maldives. So, when a name like this crops up, you already know without having a doubt that it will soothe you in ways you haven't even heard of before. The calmness of the seas is enough to make you feel relaxed, but with Moofushi you go beyond the realms and deeper into the pool of relaxation. And here's why. You take a ride on the plane to get to this small island. And you open your eyes to some of the most rustic and artistic rooms you have ever seen.
Not only is this hotel, perfectly stocked and build with absolute sophistication but it is also located around some of the best diving spots you will ever meet. Fully stocked mini bars and the loudest sound systems, this place will never fail to entertain you. With it also comes an array of water delights like snorkeling and more.
Ikos Oceania, Greece

The Greeks top the game when it comes to luxury. Their gods symbolically push them to make everything bigger and mightier. The beds are a bit more blush, their wine is a little bit redder. The entire resort island swims in tubs of butter and culture. You feel like the gods in Olympus sipping on ambrosia when you are here. Present time Greece collides with the terrains of the past and make an everlasting experience like never before.
There is no limit to the number of activities this place carries. You can sit in the cabanas and look into the cool cyan of the Aegean Sea. You can pick up a bike and explore the entire city on the road. You can have Greek maidens do wonders on your body via spa. The hot tubs will make sure you are gathered with steam for your entire stay. To be even more in place, you can also indulge in a Greek dancing class. Greeks love food more than they love anything else. Have your mouth rejuvenated and comforted both at the same time with the delicious food here. Go back with much, much more than you came with.
Explora Lodges, Chile

Chile is allspice. It is the fire you need to get your heart pumping. This one is the perfect fiery, jungle recipe for those of you with a wild streak. Are you looking for something that will revive a flame in your eyes rather than a glam trip with mimosas and sunshine? If you are, there is nothing that will treat you better than this all-in adventure spot. They brand themselves as a base camp but name a thing,and this place has it. Located in and around the Torres del Paine National Park, they have so much to offer.
They do carry the amenities you want when you come back after a tiring day, like a massage room, a heated pool,and even open-air Jacuzzis. Their activities have no bounds. They hide in their forest 50 different hikes of all levels of difficulty, from mountains to glaciers and pampas. The food there will allow you to be as rustic as you possibly can. Come back from a trek and be comforted by the heat and heart of the Chilean cuisine.
Xaranna Okavango, Botswana

You can hear the beats of the drums even as you browse this place. Botswana is an all wild adventure. It is for the bravest of hearts. Beauty is maximized by thousands as you enter this paradise. The flavor is that of primitive life in the forest. Go in your best camouflage and seat yourself in the jeep for the most silent fury you will ever witness. The word, 'Safari' takes on a new meaning as you step into Xaranna Okavango. Right in the embrace of the Kalahari Desert with an oasis of rivers and lagoons as the beverage, lies this absolute beauty.
The trip also takes exclusivity very seriously. There are only 9 topped with luxury tents on the property. They have an indoor tub, private plunge pool and more. Activities range from wheel rides in the forests, picnics by the dugout boats and eco-boats. Your eyes can come in contact with those of the wildest of beasts like lions, cheetahs, hippos, elephants, birds and more.
Royal Davui Island Resort, Fuji

This one is censored beyond anything. Adults get a recluse of their own. Only those looking for the deepest of privacy will venture out into this hidden-under-the-rock-spot which is only reachable by boat or helicopter. This is the place that understands that you're your alone time and gives you entire packages of it. Lagoons and islands are your best mates with you. They tend to be top notch when it comes to three wheeling. There are 16 brilliant villas to brighten your days. It is everything you want. Not only will you get your peace and privacy you will also get a lot of warmth and love from the attendants who will invariably know your name by the end.
There is barely anyone in sight as you sit by the beach and have the perfect sunny side up as you sip fine champagne. There are even jungle treks alongside turtles and dolphins.
Half Moon, Jamaica

While the entire world is off populating and polluting the overrated resorts, Half Moon stands on its rock, quiet and undemanding. It has attracted the highest of queen bees so the trust high on this one. From Queen Elizabeth to 50 Cent they have all been here. Hidden luxury is what makes half of what Half Moon is. The rest is made up for by 400 acres of beauty all mapped out.
The list of activities goes on forever once you begin. This really makes Half Moon a must visit. You can sit perched on the sea and witness perfection as it shimmers or you can go horseback. The dolphins in their cute cove are also welcoming. They also include kayaking, golf, windsurfing and tonnes and tonnes of spa treatments.
Rixos Sharm El Sheikh Resort, Egypt

If there was one thing the ancestors of the Egyptian dynasty did, it was living in luxury. They lived in so much luxury, they even died with glory. The place gets a lot of love for the number of details put into it. There is one thing that matters to them. You must be entertained. You will have something new to do every minute once you are here. Their restaurants add something rare to this resort. There are 2 proper sit-down restaurants here and 8 eateries spread across accompanied with bars and more.
The options for entertainment go all around. The nights are particularly soulful here. From nightclubs, discotheques and even an open-air nightclub at the beach. The resort also makes sure to relax every muscle in your body what with its Turkish bath and body massages. They also have a fully equipped gym to work out the feast eaten in the delicious restaurants.
The Village Coconut Island, Phuket

Rustic is the new beautiful. This phrase meets its most prominent example in this forgotten distant island in Phuket. You can only reach the place via helicopter of the water taxi. It is all wooden finishes and palm trees. To break the regularity is the tropical punch. It is the kind of place you would never want to leave. It holds you and intends to keep you forever. The villas are humongous,and some even have plunge pools. The bay and the forest make for some spectacular views.
Food is beyond anything you have ever eaten. The Thai cuisine goes right to your heart and is also very healthy. There are three restaurants on site,and there is also a cooking school where you can learn to recreate the mouth-melting food back at home. They even have two beautiful infinity edge pools and a private beach in which they can kayak and more.
Amankora Resort, Bhutan

There are very few places in the world that call upon as much peace as Bhutan does. Going to this resort would mean a spiritual journey. This one invites you to not only get away but know yourself better. There are 5 of these resorts that you could go to. Some nestled in the Himalayan peaks and others in the depths of the valleys. Getting the all-inclusive deal allows you to hop between any of them. They are not the flashiest places in the world. But simplicity and minimalism are what makes these resorts so much better.
There are always millions of activities to go forward with once in the Himalayas. These resort deals will allow you to go between the places and visit monasteries, do hikes and treks and more. They even throw in a driver and a car. You can also practice some archery under great guidance here.
Grand Velas, Mexico

Mexico is one of the most diverse locations to ever travel to. It ranges from the best white sand beaches to the most exotic of things. The Grand Velas Riviera Maya is located over 80 acres of mangrove land. Any photo you take here is instantly worth something big on social media. They have more than 400 beautifully spacious suites. There is even an adult only space. They have everything you want from gyms to pools.
The place is also home to the first five diamond restaurant ever. There are seven more restaurants on the island that are also just as great. To keep you up all night are the karaoke bars and piano bars.
These resorts are all you need to sort your vacation. There is no thinking involved. No confusion and no worry. Don't wait any longer. Justbook away!