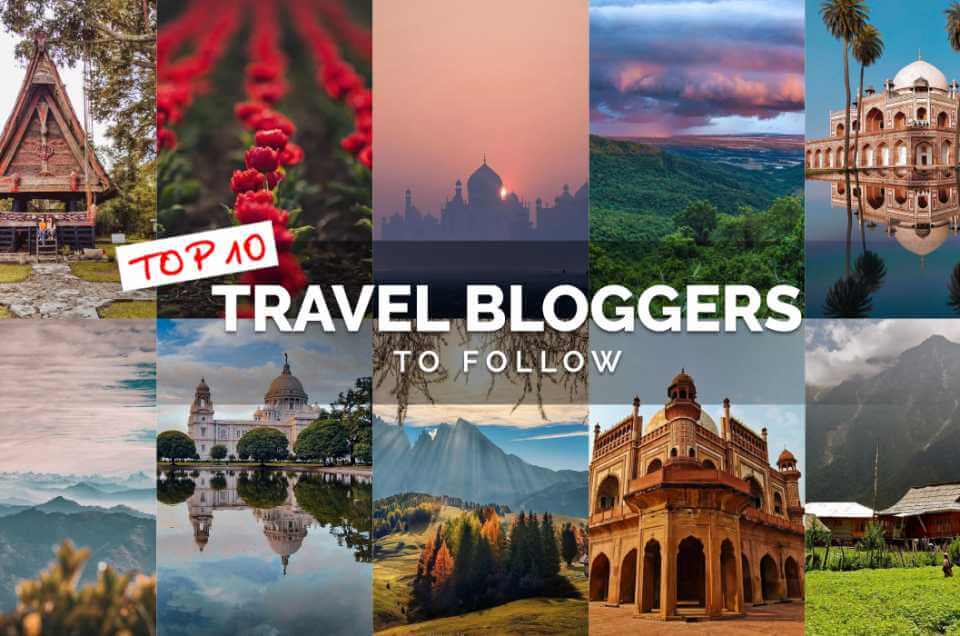 We have all come across at least one or two people who talk about dumping everything to venture to the far corners of the world, but how often do we meet people who really live such a life and make a living out of their partial or permanent holidays? Not many are such brave hearts. It takes a lot to be a travel blogger. Now, who is a travel blogger?
A travel blogger is someone who goes the world over gathering material for expounding on their travel encounters, getting paid for the assortment of their sources. Their key responsibilities would be providing up to date, accurate and reliable information.
Here is list of 10 Indian bloggers who have a passion for travel experiences, who share their thoughts and experiences to help others in planning their journeys effortlessly.
1. Auditya Venkatesh:
Auditya Venkatesh is a photographer and filmmaker based out of Bangalore who has an experience of 7 years in this field. He has shot travel shows across the world and has a niche in composing aesthetic images with impelling stories. He left his promising job of a Chartered Accountant to pursue his dreams and look how far he has come today. He is the creator of "The Audi Photography" community which has over 800000 people.
His collections from the Himalayas, the Northeastern parts of India and Silhouettes are the most loved. His most appreciated work is the video he made of Sikkim from the humongous collection which is to die for.
Auditya is a well-suited case of how one battles each fight, utilises the assets accessible, reinforces his enthusiasm and vanquishes the world.
Follow his trails on Instagram, username: audiphotography if you are a fellow wayfarer or just love stories through images.
2. Bobby Joshi:
Bobby is a Bangalore based photographer who is also the founder of a photography company called "Goodshotz". Finding nature therapeutic, Bobby is a custodian of stories about nature and is a master of portraying the nature at its utmost glory with pictures so visually appealing that all you want to do after a glimpse is just pack your bags and rush to the place.
He got his works published in National Geographic, Telegraph UK, USA Today, Caters news and Garuda Indonesia.
He is among those travel bloggers who is an inspiration to other travel bloggers as his work speaks heights when it comes to the style and skill with which he clicks all his images.
So, if you are a wayfarer looking for ideas and have the urge to learn more, follow Bobby on instagram, username: "bobbyjoshi" because he is the right guy to take inspiration from.
3. Trishita Bhattacharya:
With a degree in Pharmacy and currently pursuing Advertising as part time post graduation, Trishita is having the time of her life and the same is reflected in her Instagram Page and her youtube channel, both go by the name "overrated_outcast. Her Instagram feed is all vivid and bright colours.
Photography was her hobby which turned into passion and she is a keen photographer inspiring her followers and friends through her travel diaries. She believes the best way she expresses herself are the pictures she takes and the same quality has made her popular on Instagram because there it's all about being visually appealing and her page serves this purpose to the fullest.
4. Abhinav Chandel:
A gallivanter who lives in the Himalayan region, Abhinav is someone who spends his time mainly on voyaging, writing about it and composing all his experiences in a frame with his photography. Abhinav is someone who lives for his passion: travelling and photography. Abhinav quit his job for years back to follow his heart and since then there was no looking back. Today, he is someone who has found the perfect balance between earning a livelihood and living his dreams.
Apart from being a very nice writer and a photographer, he is an environmentalist who promotes travelling in a way that doesn't harm environment.
Follow his journey with his Instagram account "abhiandnow".
5. Shramona Poddar:
From realising "you don't travel to discover places, you travel to discover yourself in those places" Shramona Poddar at just the age of 23 has come a long way when it comes to travelling. Like a typical Bengali her life revolves around the festivities and sweets. The same is reflected on her Instagram account "mishti.and.meat".
Identifying herself as a part time traveller and a full time dreamer, Shramona is someone who can help you gain confidence if you are a solo traveller or a female backpacker. So, if you also are planning a solo trip and need suggestions, you might as well follow Shramona and choose a place from her travel diaries.
6. Siddhartha Joshi:
Apart from being an Industrial Design manager, Siddhartha Joshi is a traveller and blogger who is extremely passionate about having new experiences and something he loves the most is people. This explains his being "The Wanderer" and his travel blog which goes by the same name.
He has ventured to every part of the length and broadness of our nation and this has had a noteworthy effect on his work and his thought process. Talking about the lessons travel has taught him with YOURSTORY, he says,"I think because of travel I accept people exactly the way they are. We are all so unique and different, and to me there is space for everyone in this world, all opinions, and all beliefs. Travel has also helped me also realize that the world is a very safe place, and people and deep inside their aspirations are remarkably similar, no matter where they come from."
He has been featured on Shutterstock, Huffing Post, TOI and CNN.
You can follow this custodian of tales with the username "Siddhartha Joshi" on Instagram.
7. Shivya Nath:
This young lady needs no introduction when it comes to the travel world. Author of the Best seller "The Shooting Star", at the age of 23, Shivya Nath is living life at the best and is inspiring people to do whatever they want to do with determination. She says "4 years ago, I gave up my home, sold my possessions and embraced a nomadic life. This journey has taken me as far within as with my feet."
This Young backpacker got featured on platforms like BBC travel, TedX, National Geographical traveller India, The Huffing Post, The Times Of India and NDTV which is no less than an achievement taking in account her age. She has travelled in parts of Africa, Europe, Southeast Asia, the Middle East, Latin America, the Caucasus region and the Indian subcontinent.
To know more just have a glance at her blog page "The Shooting Star."
8. Aamir Wani:
Aamir Wani studied Business management from London and came back to his state Kashmir which is always associated with political tension and is not considered safe by people. He wanted to change this perspective about his region and that's when he took up to camera. He has a different style of portraying his pictures with small poems which makes his portrayal all the more appealing and interesting. His portrayal of Kashmir is a place which still filled with hope, love and beauty and is unlike the popular belief of Kashmir not being safe.
Follow him on Instagram, his username "kashmirthroughmylens" and see for yourself that why is Kashmir called "The Heaven on Earth".
9. Nimit Nigam:
Nimit Nigam a self taught photographer who is the official ambassador of Nissi filters based in New Delhi. A fine Arts bachelor degree holder who took up photography as he thought his creativity needs something beyond canvas and paints. He believes that life is a journey of tenacity and perseverance. He clicks images varying from landscapes, portraits, festivals to Astro. He specialises in light painting, astro, travel and drone photography.
He has been bestowed with many awards, won several competitions and several blogs he wrote have been published. His work got featured on Space.com, National Geographic Traveller Romania, Etihad Airways, What Digital Camera, N-Photo, Smart Photography, Lonely Planet India, Better Photography magazine, LG Mobiles and 121clicks.com.
Check out his Instagram page "nimitnigam" to open up to a new level of aesthetics and beauty.
10. Neelima Vallangi:
A splendid photographer and solo voyager, Neelima is a genuine motivation to aspiring explorers and travellers.
Neelima began taking travelling seriously in 2008, after an excursion to Ladakh turned to be a life changing experience. She quit her 7 year long job as a software engineer to be a full time travel blogger. She also gave up having her own house in 2015. In an interview with The Hindu she said "It didn't make sense to pay rent and other bills when I was travelling most days. Friends and family across the country are generous enough to provide shelter. Unknowingly, I've become a digital nomad."
So, if you are having a hard time and want to take break, just turn on to her Instagram page "neelimav" and choose wherever you want to go.