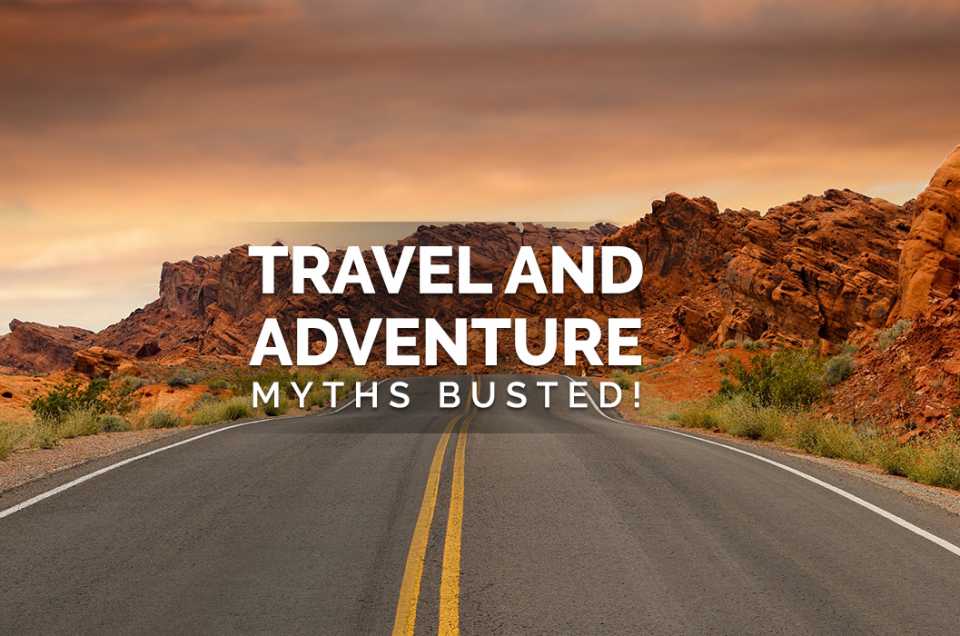 When you plan to travel there are many versions of advice you'll be getting, be it about safety, health or expense. But one thing that you have to know is not everything or everyone you listen to is right. Not all of them will make sense. Familiar with the saying "Gossip…Rumors…Secrets… Everyone has a say"?
Travel brings a lot of questions, speculations, and pre-conceived notions. Everybody who voyages has the other thought of what trip is, and we aren't here to disclose to you what's set in stone, but we'd like you to consider the facts before believing myths related to travel.
So here's MLMT debunking Top 10 travel myths. Stay with us through it.
Travel is expensive:
Nothing comes for free in today's world now, does it? Give and take a few things.
To our relief, the love we get from our loved ones and the oxygen we breathe are free. Well, for the time being.
Talking about travel, it can be costly only if you let it.
There is this misconception that traveling costs you nothing less than a fortune. This fallacy has been fed to us for years now through advertisements and magazines where travel is portrayed as being all about fancy places, living in elegant accommodations and eating in classy restaurants. Thanks to this, all of us have started thinking that one must travel extensively only if they are wealthy and want to show off their luxurious lifestyle.
Well, this is no reason to miss out on all the beauty and details in the world that await your arrival.
Taking into account that there are plenty of sites, applications, and devices, it's never been less demanding to influence your economic tour. Also, opt for cheaper hotels or hostels for accommodation, because contrary to the popular belief, these are safe. For food, you can always visit supermarkets or convenience stores instead of fancy cafes or restaurants. While traveling, don't waste money on private taxis, either walk or take public transports. By doing all these, you'll be surprised at how much money you saved, and your travel automatically becomes economical.
2. Have to be young to travel:
Age is no barrier, it's just a barrier you put on yourself.
"I am too old to travel now," it is by far the lamest and overused excuse for not traveling. Looking for an adventurous life knows no age bar.
Traveling is not an ambit that only the young can pursue.
The principal advantage of being a bit older is you are secure on the financial part. Also, you have gained experiences because of your life, and it has made you wiser and sensible. People would love to be with a sensible older person rather than a reckless backpacker.
So, why not go by " Travel while you are young because it enlightens you, Travels while you are old to keep yourself young at heart."
3. Need to be a skilled outdoor person :
Just because you were never an outdoor person doesn't mean traveling and adventures aren't for you. It doesn't imply that you cannot learn.
There are planned training camps for adventure sports. Did you know it only takes 4 days to become a certified diver? There are planned trekking camps and scuba diving camps. You can explore the divine underwater life with a mere 3 hours of training.
So, all you have to do is go for it at the drop of a hat.
4. Everything should be planned:
While some believe in making a whole plan of where to visit, what to see and when to be there. It's well understood that some people like to travel with an idea because that makes them less anxious about the new place they are at.
Well, every coin has two sides. Planned trips have their own pros and cons. On the one hand, it can enable you to amplify your time and guarantee you visit the places you need to see. Then again it confines your alternatives to encounter things you hadn't considered. Your plan is generally based on what you read and saw on the internet. However, as much research as you make, it can't substitute really being in a city taking in the fascination, taking in the sights, the scents, and the climate.
Trips with no plans are full of surprises. Wait till you reach the place, talk to the locals, they might tell you places to visit, food outlets you must try and also information about a few places only the locals are aware of.
We aren't asking you to go clueless to a place or ditch your list of must-visits but be open to spontaneous decisions of seeing other places too while on a trip. That will add up to the memories you make.
5. Won't make any friends:
We as humans have this tendency of needing constant companions in some way or other. So, while traveling alone or with someone, you are bound to meet other travelers. There is a high chance of connecting with them on different levels, and you never know where this friendship might take you. Hostels are generally made for this, and people live in them to meet fellow travelers because they are like-minded and sometimes become travel partners for the rest of their journeys.
So, it doesn't matter if you are a social butterfly or not, while on tour you are bound to make friends unless you are determined to be a loner the whole trip.
6. Traveling is unsafe and dangerous for women:
Being a woman, safety is something that bothers your loved ones when you announce your tour plans because the world is "too dangerous and vulnerable" for you. Well, what is the guarantee that you are safe wherever you are at the moment?
Life is unpredictable, and anything can go haywire, but that must not stop you from getting your dose of adventure.
Have enough fear to keep yourself aware the whole time, be cautious but don't let that fear take away your chance to travel and have different experiences altogether.
Keep sanitary napkins and pepper spray in handy just in case.
Enjoy life to the fullest irrespective of your gender, because YOLO: you only live once.
7. Couchsurfing is unsafe:
You can keep Couchsurfing and save a lot of money. Couchsurfing is basically just crashing on someone's couch or maybe bed after you are tired from all the travel. People register themselves on various sites such as couchsufing.org to become hosts to travelers with minimal or no cost, they provide these travelers with a roof above their head.
But, before you CS you must talk to your host properly, maybe google the area they live in and text back and forth with questions.
CS'ing is an excellent way of making local friends, and sometimes you might as well get a free guide to show you around. Just imagine the amount you save on accommodation and a guide altogether.
8. Hitchhiking is unsafe:
Hitchhiking is an unusual type of voyaging that can invoke a wide range of mental pictures relying upon your experience. Hitchhiking today has become a common adventurous way of voyaging these days.
You can get more information on hitchhiking from Hitchwiki. Hitchwiki is a website for gathering information about hitchhiking and other ways of extremely cheap transport.
Although many may fear that someone may abduct you if you just hop into their cars, but once in a while we might as well trust people. You must go with your gut feeling when it comes to hopping into someone's car. Not everyone in the world is bad or wrong.
Media has loaded our minds with all kinds of nonsense about abductors and murderers, but not everyone or every stranger you meet has to be a rapist, a murderer or a psychopath.
9. You cannot travel with family:
This is one of the excuses used not to travel and also advised upon by elders. But why not?
Family vacations are by far the best way to spend time with each other and know each other better. Family vacations are remembered for a long time. Sometimes there will be differences in opinions but at the end of the day you all are together and there for each other, and that is what matters the most.
There are several places where you can go and enjoy with your family without any obstacles. Its true you cannot climb a mountain with your family(unless all of them are up for it), but there are specific destinations which are suitable for all kinds of preferences. All it needs is a bit of research, and there you are with the perfect travel plan for the family.
10. You need to be super athletic:
Although being fit generally is a good practice and helps in traveling also, but this is indeed not the deciding factor for your little rendezvous with adventure. Adventure can be anyone's cup of tea, all it takes is a little courage to pursue something new and there! The world is your playground. It is just a matter of coming out of your comfort zone to know about all the things that are unknown out there. When you are used to experimenting, this becomes your life, and these experiments tend to spice up your life. So, it doesn't really matter if you are fit, athletic, have six packs, or you weigh more than 100. All it takes is the right attitude.