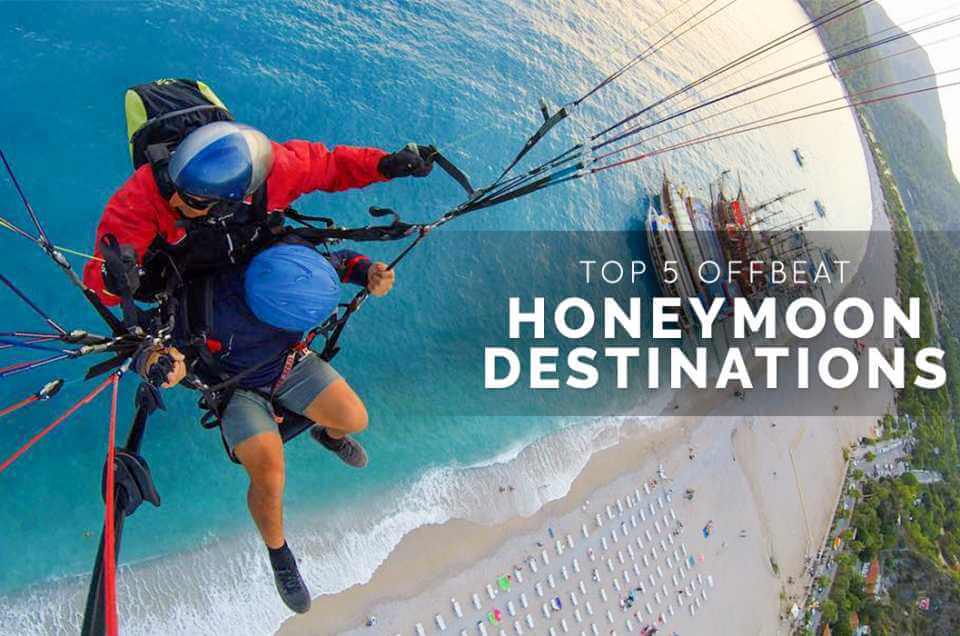 As the Wedding Season knocks on your front door, some severe decisions also walk in. These are the months of love,and with our population, we tend to spend our special moments with Rahul Weds Sanjana and Pinky and Rinku and the entire clan. Most of the people have a ready list of society-approved honeymoon spots to blindly pick from. But why stop there? The world is full of places hidden under the rock. Places forgot. And you know what? A lot of them also lie untouched in our own country.
This Honeymoon Season let us look beyond the known, let us take our everlasting love to places it deserves. After sharing all of our Taj Mahal pictures with a million other people, we want a spot that is all ours. A place that says that two souls started their route here.
Here is our smile approved list of unique honeymoon destinations that are bound to make you swoon:
North Kerala: Wayanad, Bekal,and Silent Valley

If God's own country is not the right place for you to come together then what is? There are a lot of areas in Kerala itself that are favorite honeymoon spots, but some places sit with their shy smiles, waiting for your sunset walks. If you are looking for privacy and peace, this is the perfect match.
Wayanad is enchanting. The Western Ghats stand firm in the distance. The valleys plunge deep into to serenity. The dense canopy reminds you of times without mankind. In this place, you are a first couple starting your journey off together. Bekal takes you another route. It has in store a beautiful, vintage fort. Nothing better for a fairytale beginning. This is your happily ever after. The pristine shoreline in the distance is just an added bonus. The Silent Valley gives everything away by its name.
This is the perfect recipe for a honeymoon. You get the spice from Wayanad. The spice plantations are a must visit. You get the best flavor from the sunset talks at Bekal. And the Silent Walks of Silent Valley is the cherry on top.
Gangtok

When it comes to the extreme North of India, we are no short of places to go to. But we still end up in the same places. The same bike rides at Ladakh. There are places beyond. Picture this. The extreme winds howling. Monasteries ringing their gong in the far distance. The fragrance of freedom in the air. And you and the absolute love of your life, wearing ten pairs of jackets and gloves, huddled next to each other, looking out the window at the tallest of mountains. Does it get better than that? It rarely does. But Gangtok isn't just another destination up there. It is a place with a personality. When you come back, there will be only one name reverberating in your head again and again. Gangtok.
Gangtok leads you onto Nathula Pass, and very few places reach that height of perfection. As you walk past the boundaries and look into a country not known to you, it makes you feel liberated. At this time and space, it is only you and your partner. Don't miss out on any stellar experiences. Look onto the Khangchendzonga peak. Laugh along with giddiness at the yak safari and the many sports like paragliding and river rafting. Breathe in peace on a cable ride. Gangtok is everything you want your honeymoon to be.
Tanzania, South Africa

Here is one for the wild gleam in your eye. Are you the couple with adrenaline pumping in your ever-excited veins? Are you the two looking for a piece of exotic? Then this one is made for you. Everything about South Africa says wild and hot and adventurous. But that is not all. There is more to this multi-layered experience than you know. Tanzania is like a forest. The more you go in, the more you see. It begins with the ultimate safari experience.
Going to a safari in Tanzania will make you feel like you are two people, on the run. It is an experience that will fill fire in your eyes. The sights you will see will leave you spellbound. From roars to whimpers. There is everything here. The food here is delectable and will have you asking for seconds and thirds. But South Africa is not just that. It is the place that also gives you tools to counteract the burning heat.
Enter, Mount Kilimanjaro. Now here's a mountain you have to scale. The snow-capped mountain is not only home to sights like never before but will also diversify your experience. Holding your love's hand as you reach the top, is an exhilarating feeling like never before.
Santorini, Greece

Nobody knows love like the Greek know love. Their rich mythology adds a soulful tune to your trip. It is as exotic as it can get. The island of Santorini takes you to a paradise which is all yours. Your dreams become a reality as you step foot here. This is the place that boasts widely and proudly of the most breath-taking sunsets in the world. What could beat looking out of a broken caldera and onto the shades of the evening falling onto the tranquil, cyan waters?
Greece does its marriages here,so it is a well-known fact that love meets in Santorini. If you step away from the tourist hordes, you will find spots that treat you with the best of nature. Colorful abodes and narrow, winding routes with flowers blooming from the cracks. The island has everything you want to make a power-packed trip. There is a party culture here that you have to taste. Nightclubs scatter all over. Greek Food is also a bonus you want to utilize till the last bite. The Domatokeftedes and raki await you. When you are full till the brim, go down to the sandy beaches in the night with the moon glowing bright and sit down by the splashing waves for a beautiful conversation with the one you are going to spend your life with.
Ireland

The land of happy people. The country that lets you smile and dance. Ireland welcomes with the warmest embrace and makes sure you feel right at home. Jagged cliffs that jut out of the mainland. Castles that stand firm in the distance waiting for you to rescue adventure. Miles and miles of meadows that never stop spreading. Ireland is the most favorable place to be. You can walk into a bar and walk out with half a dozen friends and drunk out of your mind. You can stay a night in a deserted castle and wake up to the splash of powerful waves colliding with the walls.
Nature flows like a free river, here in Ireland. It is the perfect blend of the old and the new. You can find castles eroding in the distance while the modern scene unfolds around it. The theatre here will leave your eyes wide open. Ireland is a peaceful gust of air.
A Honeymoon is one of the most important trips of your life. When you look back to this, you will remember the best of times. And when you look at the pictures, it will pull you by your gut to memories of the good days. We here at MLMT, want to make sure these pictures are worth swooning at for eternity.
Happy Honeymooning!