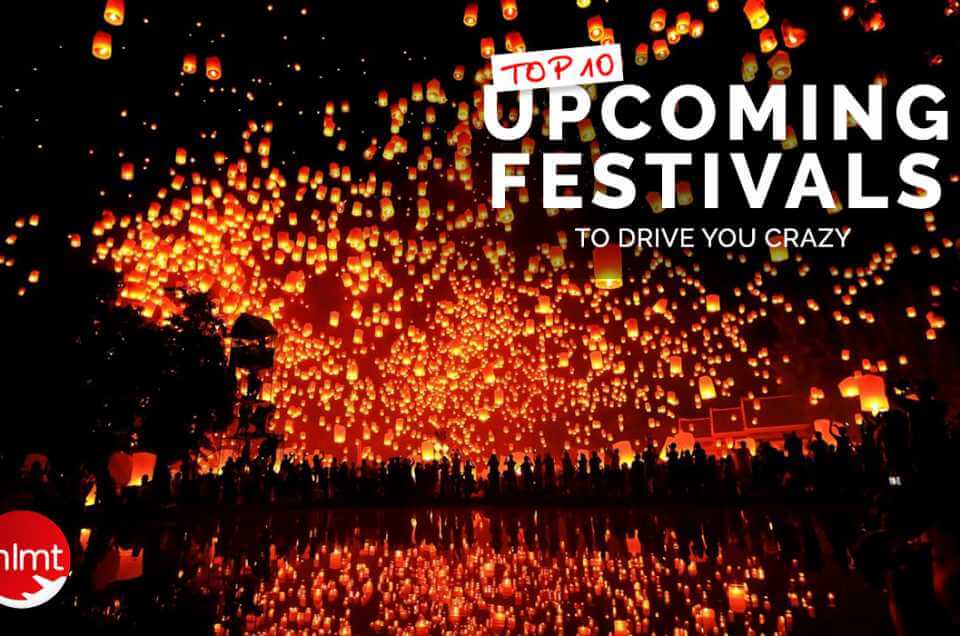 The end of the year walks into the calendar with anticipation as the main soundtrack. The trees remember their symphony and the skies light up with the expectation of the greatest of times. As this time rounds up, the party animals inside of us start waking up. And the animal is hungry. Well you need not worry. The entire world prepares for the new year with a fervor never seen otherwise.
Are you ready to get your veins pumping with exhilaration? Are you ready to step out of your house and breathe the kind of fresh breath not found elsewhere? This year upgrade your new year plans. Take a suitcase, pack a bunch of energy, tonnes of music and more dance that your bag can take! There are many, many festivals up and coming in the months to come and we can hardly wait! Can you?
Here are some fests to feed the crazy in your eyes!
Magnetic Fields Festival, Rajasthan

If the name does not have a direct magnetic pull on you, then you should throw some water on your face. There is energy in every molecule of this fest, and this year they have some solid things planned. It is not just your general scream-out-loud festival. There is some sort of artsy energy that will ring a familiar string with your heart. The fest does not just let you go all out, it invites you home.
The festival is from 14th to 16th December. There are various kinds of tickets. From non-accommodation to tent packages and luxurious room packages. The kind of artists that grace this stage are best heard with eyes widened and mouths open. This isn't one to miss. Reel in to make your year better than ever.
White Rann Festival, Kutch

There are very few festivals in India that capture the kind of experience that the Rann Utsav will give you. This is the kind of festival that opens its welcoming arms open to people of all ages and kinds. Beauty plays the first card here. There is a spectacular scenery in every glimpse you take. The festival does not leave even one sense out. From the views that will captivate you to stare for years, to scintillating food that will play khokho with all the ends of your taste buds.
Kutch is all open grounds. There are more things to see here than most places you will visit. The Tent City, as it is called, in Kutch will entertain you till its last breath. From inside Tent activities like Paramotoring and Skyzilla to visiting all the picture worthy spots around the city, you have your days planned and plotted out.
Harbin Ice Snow Festival, China

This festival also screams proudly in its name what its all about. And you don't dare not get chilled by its premise. This festival calls you out into the open to enjoy everything great about the winters. The ice and the snow aren't here all day every day, so China says, let's enjoy this miracle while we can, right? There is an entire array of experiences that can be had in this festival.
The festival also entails some great ski journeys and winter activities but what it mainly wants to get you with are the sculptures and the carvings all around. It is a month-long festival which also has competitive events that lead to fun, frolic and ice lanterns and slides everywhere in sight.
Jaipur Literature Festival
Not all parties have to be obvious and loud. They could also be implied. They can also be visuals bursting in your head as you read line after line. For those looking to broaden their intellectual scope this year, the Jaipur Literature Fest has you covered. You can savour each word you hear and cheer onto every articulately put forward opinions. This makes us writers and readers go weak in the knees.
The fest is a humongous gathering which has slowly transformed into a literary phenomenon. There are over 2000 speakers from all over. From writers, thinkers and humanitarians to politicians and businessmen, there are people of all thoughts. This leads to a great collision of thought processes and is something else altogether.
Bikaner Camel Festival, Rajasthan

India is a fiery ball of culture. It unravels as we go across the country. The next stop takes us to Bikaner in Rajasthan. This is not your typical New Year's party, but it takes you to levels never seen before. The beginning of the year is nothing but an opportunity to see things and feel things like never before and there is nothing better than getting lost in the high density of culture right here.
The festival is all about camels. So, you will be seeing a lot of them. They are loved very deeply. From wrestling to races and camel dances this fest really is something. As one can expect from Rajasthan it is loud and vibrant and will blow your senses. This is one fest that you need to be at. It is all smiles and sunshine.
Sunburn, Pune

When you hear the name Sunburn, chills go through your body. Everything about this is electric. The kind of energy that this place carries, is not found any where else. Sunburn is meant for the loudest and laughs and the widest of smiles. People are the highest milestone of Sunburn. You make the longest lasting friendships right then and there. After sharing the numbing experience, you lose yourself and find it with people feeling the exact same thing.
Pune is the city of free thought and chill spirit, so it makes sense so such an eye-opening experience could be had here. The entire city shuts down for this event. People with the same thoughts come from all over. The music here will change the course of your heart beat. This is not an experience you want to miss.
Yi Peng Festival, Chiang Mai

Thailand is known for vibrancy beyond anything else. They follow through with this theme in their food, in their life and even in their festivals. This is a fairy tale come to life. The sight that will reel you in is a sight that makes fantasy seem tame. The millions of lanterns go up in the sky and our eyes can only see light reflected in it. This is the kind of view that looks the best with a hand clasped.
The festival is celebrated on the full moon of the second moon of the Lanna lunar calendar. The date falls on 22nd of November this year. But far from general thoughts, this isn't just one festival of lantern release. There are people doing it from all over the place.
Chinese New Year

The calendar of the Chinese is as interesting as it can get. Their culture is so deep and wide. But they sure know how to celebrate. The elaborate festival begins way beyond the actual festival and go right through February. There are preparations that you can also be a part of. The actual date of the Chinese New Year is on 5th of February. The Festival starts on that day and goes till 19th February this year.
The entire country shuts their shops down and take this big show to the road. The population of the already crowded country goes high as people from all over crowd the streets. But it is worth every bit. The humongous dragons and the food that melts your taste buds to puddle. This is a really special time. The year to come is the year of the pig.
Jaisalmer Desert Festival

As the spring becomes to dawn, the beautiful city of Jaisalmer welcomes the new season with arms wide open. The entire idea of this festival is pleasant. It is beauty amplified. The festival that is celebrated amongst the dunes, lights the entire cut off area to hordes of people. This is the best form of recognition this place gets. There is a lot of historic backstory that raises this festival up. The wild desert takes a hold of colour and enthusiasm.
If you want to experience of Rajasthan in a go, there is no better place to go. Many different local dance forms shoot up sand in the air. The camels have a different importance completely. There are many dances and competitions that go on. This all eventually leads to stalls and stalls of scrumptious food like no place else. In 2019, the festival will be celebrated from 17th to 19th February.
Pushkar Fair

All camel lovers give a shout out here! The beautiful humped animal is the centre of this celebration. This is on utmost importance to the folks of Rajasthan and neighbouring areas. It is the largest cattle fair in the entire world. This festival is celebrated over a period of seven days in the Pushkar district of Ajmer in Rajasthan. There are many events that lie around the central theme. Everyone leaves everything aside and comes to enjoy their desert paradise.
There are many things you can do from the Pushkar Glamping experience to the Hot Air Ballooning. Imagine that. Colours and desert dunes spread in all directions. And you way above the sky.
The year has been victim to some brilliant fests. And as we say goodbye to the last year and welcome the new year with our smiles shining bright, the fests call out to us too. This is a cherry on top of your already beautiful year. Just one last mile to run. A great way to start off your year.
What is your idea of a perfect festival? What festival do you look forward to the most? Let us know!