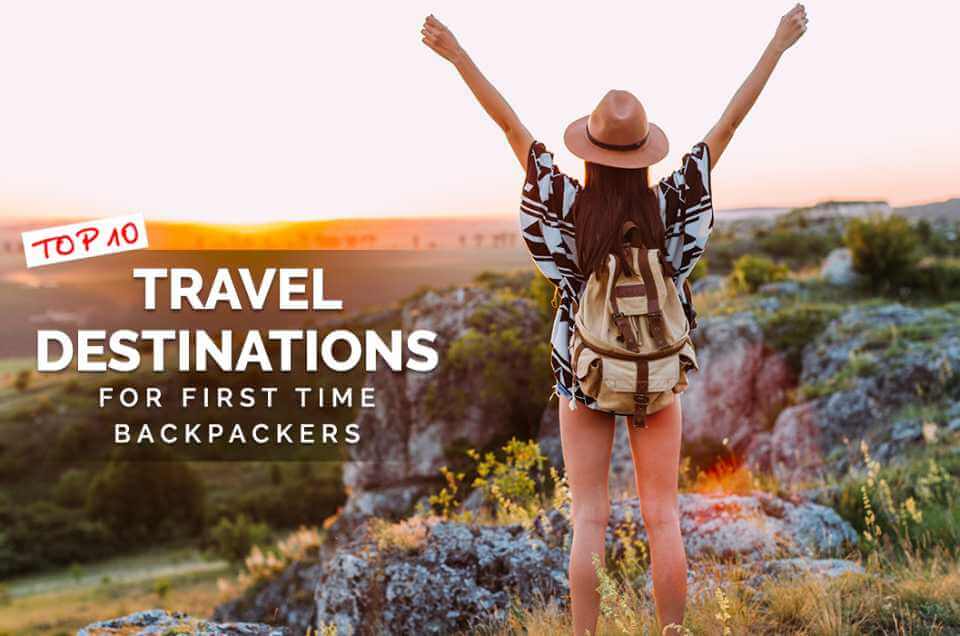 TOP 10 TRAVEL DESTINATIONS FOR FIRST TIME BACKPACKERS:
When was the last time you did something for the first time? The first time of anything comes along with a mixture of lots of anxiety, anticipation, and excitement. The same goes for you if you are a first-time backpacker.
Backpacking is not only fun, but it also expands your perspective, widens horizons for you, gives you novel experiences memories that will stay with you for a lifetime.
So, intending to fill those pages on your passport because you believe that the best stories are found between them? But where to go is the real question here.
Don't worry we have got you covered in that front.
Let us fuel your daydreams with our list of 10 travel destinations of the world for first-time backpackers:
Australia:

Australia is not only considered to be the best travel destination in the world but also the right place for major backpacking, camping, road trip or diving. This place satisfies all kinds of travellers irrespective of what their travel preferences are.
From its red-earth focus to the lavish tropical coastline of sandy shorelines, Australia is a place of one of a kind phenomenal magnificence and a profound rich history. You can stroll over the land, camp in the desert, live like royalty in the Barossa Valley or take a waterfront drive along the Great Ocean Road.
Must visit places for backpackers are Sydney, Melbourne, Uluru, Darwin, Cairns, Byron Bay, and Fremantle.
2. New Zealand:

The Land of the Long White Cloud is present on every backpacker's bucket list and all for the right reasons. An epic mix of staggering view, experience sports, and benevolent local people make New Zealand a must visit.
New Zealand isn't called the adventure capital of the world for no reason. From hiking, skydiving, caving, bungee jumping, and skiing, New Zealand won't let the adventurer inside you down. There is a routine for everyone. It does not shock anyone, that it is a central hub for the travel industry with an increasing number of visitors every year.
Must visit places for the backpackers are Auckland, Rangitoto Island, Mount Eden Domain, Waiheke Island, Raglan, Wellington and many more.
3. Thailand:

Thailand is not only the travel hub of South Eastern Asia but also a must visit place on the radar of backpackers especially the first-timers. With its rich wildernesses, acclaimed shorelines, world-class diving, delectable delicacies, and insane parties, Thailand manages to draw the attention of many people every year as it has something for everyone. The kind and friendly locals add up to the beauty of this place and hence it is called the Land of Smiles.
Must visit places for backpackers are Phuket, Kanchanaburi, Koh Phi Phi, Koh Lipe, Krabi, and Koh Phangan.
4. Budapest:

Backpacking in Budapest gets better and better every day that you spend there. The place boasts that even after seven days you would not have seen everything. The Little Paris of the East, Budapest lives up to this name. From excellent roads, breathtaking architecture, to being lively, Budapest makes a dynamic city. It's still somewhat raw around the edges yet that just adds to its appeal.
Budapest is known for Thermal Baths which are believed to have natural healing powers. Two of the most famous Thermal Baths are Szechenyi Spa and Gellert Spa.
Must visit places for the backpackers are St. Stephen's Basilica, Heroes Square, House of Terror museum, Walk across the Chain bridge, Dracula and labyrinth of Buda Castle and Hungary's Parliament Building.
5. Albania:

Albania is a nation with an unimaginably long history, right around 5,000 years, with impact from Greeks, Illyrians, Romans, Venetians, Byzantines, and Ottomans. Albania is a place. which is still untouched by urbanization and is on its utmost glory with a pitch of rawness in it.
If sunbathing on unblemished shorelines, trekking through forlorn mountains, discovering and exploring old remains is your type of ideal trip, Albania is the perfect paradise.
The Balkan pearl has stayed away from mass the travel industry dissimilar to a considerable lot of its neighbors, so travel in Albania implies numerous unexpected encounters and gobs of valid local appeal.
Must visit places are: Albanian Riveria, Main Square of Tirana, Himara Beach, Berat, Saranda, Kriya, and Durres.
6. Nicaragua:

With chilled shorelines for surfing, insane party towns, transcending volcanoes and exploring crosswise over, Nicaragua is an ordeal dissimilar to any other and there truly is something for everyone.
Backpacking in Nicaragua gives you an opportunity to explore nooks and corners of the place and get in touch with the rich heritage associated with it. The more you explore the country, the more you will understand why it is voted the 8th happiest country.
The delightful scene of dynamic volcanoes, beautiful lakes, tropical rainforests, and its old pilgrim urban communities are enough to entice you and make you fall in love with the place.
Nicaragua is also referred to as the New Costa Rica minus the crowd. This place is getting famous by the day because of its unblemished nature. It is also one of the most affordable places when it comes to getting more for less in Central America.
Must visit places are: Esteli, Granada, Leon, Cerro Negro, San Juan Del Sur, Isla Ometepe, Jiquilillo, Masaya, Apoyo lagoon and Miraflor.
7. Nepal:

Nepal is a place where one can witness beauty that is wallpaper worthy, with the Himalayas as a backdrop. It has to be heaven for people who love nature and backpackers.
Nepal takes pride in having eight out of ten world's tallest mountains including the Mecca of trekking: The Himalayas. There are numerous trekking routines you can choose from.
If you are not into trekking then there is white water rafting, kayaking, mountain biking, and bungee jumping.
After all this, it's the people that make the real difference. Nepal's hospitality is world famous and they contribute in making people want to come back to the country time and time again.
Must visit places and must do activities are: Trekking in the Himalayas, panoramic flight over the Himalayas, visit Chitwan National Park, Pokhara, mountain biking in Kathmandu, Mount Everest helicopter tour and a Two-day river rafting on Bhote Kochi River.
8. Malawi:

Malawi, in the core of East Africa, is a land bolted nation with mountains, tea estates, a far-reaching lake and a large number of astounding things to do and inns to offer any brave hiker. What makes Malawi exceptional is that it has everything an explorer could request in a little space.
Malawi is known as the "Warm Heart of Africa" because of the friendly and hospitable nature of the local people.
Malawi attracts a lot of travellers because of its fascinating aspects, so you end up meeting many people, making new friends and coming across them numerous times because Malawi is small.
Must visit places are Mount Mulanje, Kumbali Cultural Village, Kuti Wildlife reserve, Majete wildlife reserve, St. Peter's Cathedral, La Caverna Art gallery and the Way of the Cross.
9. Turkey:

A standout amongst the most unfathomable nations to go exploring is Turkey. No matter how many times you visit the place, you will always find something new to do here. It's described as the most alluring and the most endearing places by frequent travellers.
Turkey is the land of beautiful landscapes and archaeological sites. Turkey is a place which will an impression on you and you would want to visit the place again and again. Turkey is a place which flaunts ancient traditions and values. From ancient temples to mosques to cave hotels to bazaars to old roman amphitheaters to museums and Turkish hammams, Turkey has it all.
The people are kind and friendly. The food is delicious and the living cost is affordable. What more is needed to entice someone and making them want to visit Turkey.
Must visit places and must do activities are: Sky sports paragliding, Kas Daily Boat tours, Whirling Dervish shows, Royal balloon, Sulemaniye Mosque, Blue Mosque and Basilica Cistern.
10. Vietnam:

If epic adventures, unique experiences, mouth-watering foods, and ancient historical sights entice you, Vietnam is the place for you. Vietnam has become a backpacker's favorite destination because of friendly people, delicious food and easy to go visa situations. Vietnam is a place for you if you enjoy off the beat experiences such as dramatic mountains, corn wine and getting to know the local culture and people.
Many bikers go around Vietnam as it is considered the best way to explore this place. The most popular backpacking route is heading from Hanoi to Saigon.
Must visit places are: Cu Chi tunnels, How an ancient town, Hon Mun Island, Halong Bay full,
Overnight Sapa tour and Old Quarter.