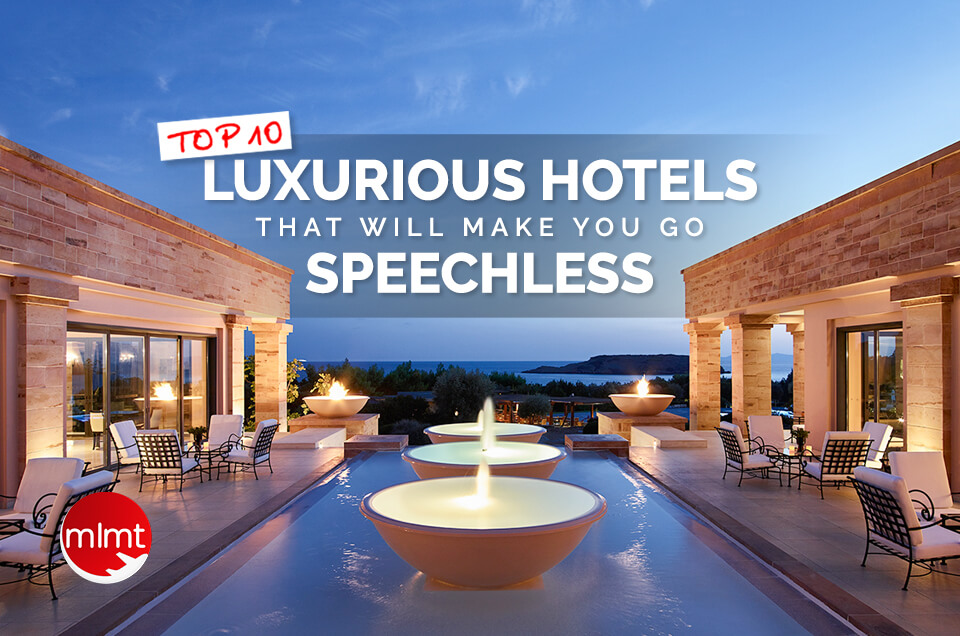 Oh yes!It is that time. We warn you though. Reading this one might make you want to cry tears of sheer, pain and joy. It also might make you want to give up your kidney. But it will also be a collection of some of the greatest things built by the modern man. So, seat yourself in this platinum capsule and let us shoot off into the world at it's absolute best.
Every once in a while, some great people meet up and decide they want to change up the standards of luxury. And mind you, they stop at nothing to deliver exactly that. This is the healthy competition that is making us viewers lose our minds. Traveling is obviously our first love and once in a while we love to splurge out and get the kind of room that makes us want to get lost in the mini-fridge and plunge pool. If you are anything like us? You will be on the way to book a ticket to some of these hotels by the end of it.
Here is a list of some luxurious hotels in the world to start you off:
1. Burj Al Arab Hotel, Dubai

Any list talking of luxurious cannot be complete without this name. This is the coconut that needs to start of this list, for good fortune, you know? The second this building comes into your sight, you will feel like you are officially too short. Right in the deserts of the Middle East, lies this tall beauty. The shape is what you will notice right after you notice its size. It earns it the name, 'The Sail'. It hides in the depths of most people's dreams. The place also offers tours just to see the hotel. Once you enter this paradise, stepping out is not an option.
Burj AlArab consists of nine world class restaurants and five swimming pools. They even have their own private beach. What more could you ask for? They also have a spa centre and space built entirely for children.
2. Mardan Palace, Turkey

Walk in here, to feel like royalty. You will have a personal butler at your service for your entire stay, 24/7. It is like a world of its very own. Palms and turquoise waters surround you. They have the entire world imported here. Italy gets its marbles and Egypt got its sand for their artificial beach. The gold leaf interiors will have you staying inside all day. It took them 1.6 billion to build this. It stood up to its majesty in 2009 and has been sending us to awe planet for since then.
They have ten restaurants so pretty much any taste you want, they have it here. And it can seat up to 1000 people. Lie on the sand as you sip something and feel peace and calm like never before. Here at Mardan everything happens at the snap of a finger. You will feel almost like Thanos!
3. The Plaza, New York City

If there is a city that knows of luxury it is NY city. Everything is bigger and better here. And the Plaza will just agree to this point. This institution has been a part of New York and its history for quite some years now. It has been around to look over the city right from 1907. Most people go to this city as if it is a museum or a monument. Sophistication is the first word here and even the last word. The rich décor made this place what it is today.
Everything right from the check in will make you feel the wonder and the privilege which comes in staying in a place like this. It is the perfect spot to stay when exploring the city. Their VIP Suite will feed you the entire skyline of Manhattan. New York has some brilliant hotels but it all begins from here.
4. Atlantis Paradise Island, Bahamas

Ah! The seas and the palms. We can almost smell the wild from here. If the word exotic is playing in your mind, well there is nothing better than this. The Caribbean all saturates and meets at this point. The Atlantis! This island promises and delivers the satisfaction and relaxation far, far, far away from home. The original Atlantis city drowned away, but they resurrected everything to honour it. The richness of the city just gets amplified as you enter. It spreads of 141 acres of simple, true beauty.
If you want to experience this one at its absolute best you must venture into the Royal Towers Bridge Suite. Inside it you will find full size mirrors that make you look better and ceilings taller than your entire family stacked together.There is even a full-fledged dining room complete with a staff at the ready to serve you. If this is not the best form of paradise, then what is?
5. The Palms, Las Vegas

Las Vegas. The city that knows how to knock back shots and really, really live.This city will give all the pleasures in life, all packed in one place. And that place is, *drum rolls* " The Palms" This is the city of sins and the Palms lets you experience every sin one at a time. They have some brilliant, huge villas like the Hugh Hefner Sky Villa. This itself can house up to 250 people and has a humongous roof top jacuzzi to let you chill and heat up all at once.
But wait there is more. This suite is also home to a glass elevator all for you, a gym,a rotating bed, media room and the fullest bar in all of Vegas. The city is the most famous location for a bachelor and bachelorette party and this place just proves that. It is a place meant for you to be passed out by morning.
6. The Westin Excelsior, Rome

Rome. The city with its head held high. The city with the most jam-packed past. The city that sure earned its way onto this list. Rome with its glorious history knows a little something about royalty. This one built in 1906 will give you the ultimate Roman experience. There are a lot of suites that are affordable. But one of their major suites went through a 7 million-dollar renovation. The Villa Cupola Suite is just something else.
The suite spans 2 floors and is one of the biggest suites across Italy. The place gets luxury from two ends the old and the new. Cathedrals domes give it a rustic and dusty look. And the modern tech and the gadgets make it very appealable to all sorts of crowds. The sauna and the Jacuzzi and the fitness centre along with many more give it a rich feel.
7. The Boulders, Arizona

Luxury knows no better than the nature. Everything bows down to the whims and greatness of Mother Nature. With this place in Arizona, she plays the biggest role. The rock formations that surround it from all degrees is what adds to the wonder. The beginnings of this hotel started 12 million years ago. Right in the Sonoran Desert, it spans over 1,300 acres. What lies inside is almost as amazing as on the outside.
There is a proper spa facility complete with a lot of rejuvenation techniques. You can also get up, take your cubby and go to the two golf centres. This also gets alot of celeb play when they want to go unseen.
8. Marquis Los Cabos, Los Cabos

The lobby shows all the serenity of this place in a go. The lazy, rustic interiors that open right onto the daunting, wild sea. It is inspired by two angels seeking heaven on earth. It is like the temple of the gods. There are many sculptures built with the finest precision that adorn the hallways. If this was not enough there are also waterfalls and infinity pools and spa retreats. Marquis Los Cabos is the finest VIP spot.
There are humongous villas that also have spacious balconies. And oh! What a view. If you sit out there you will witness whales that migrate from far off lands. There are villas with dipping pools too!
9.CuisinArt Golf Resort and Spa, Anguilla

Sometimes you own home could be something bigger. These are the generous people that decided to make their tropical chill house into one of the most luxurious hotels in the world. It sure was a great contribution to the world. The guestrooms and the villas that lie scattered on the beach are inspired by the Moorish architecture and lifestyle.
And what more? They have a spa and refreshment centre that was made for 10 million. They also have a newly made gold course right there. This one makes big bucks by reaching out to those celebs looking for some quiet peace alongside the beach.
10. Emirates Palace, Abu Dhabi

The Middle East. Ah, the exotic royalty. There is not one place better that we can think of! Just placing your eyes on the sight will make most sigh with satisfaction.The décor focuses on the tiniest of details that you can notice from the very first step you take. It will make your eyes go wide. The service is of highest order and the welcome will make you melt.
It cost them about 3 billion to build it. With 394 suites, 40 conference rooms and a complete beach it gives you all the experiences you are looking for. There are fountains adorning all the stops and chandeliers that we lost count of. This place does not just speak of luxury, it screams of lavishness. You will walk inside this place a regular human and walk out feeling like a wealthy ruler of the entire dynasty.
And guess what? This list is just the beginning. The world is full of these brilliant with an extra helping of luxurious hotels. What was your best hotel experience and why did you love it so much? Tell us! MLMT wants to know!