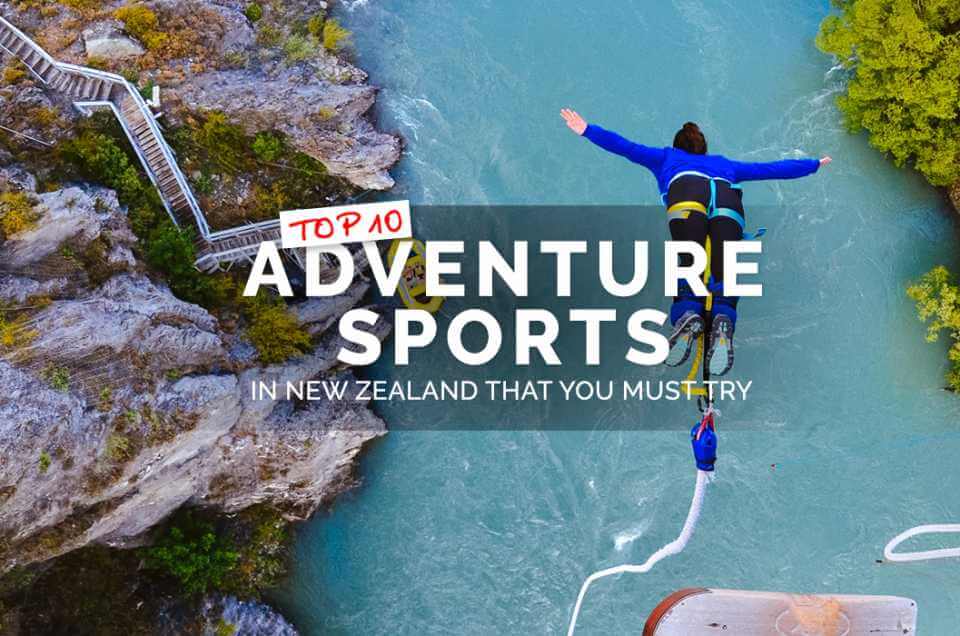 From the unforgettable road trips that throw tons of opportunities of driving down the quiet trails and the footpaths that really make you taste the travel and live the journey to explore the stunning landscapes which are home to one of the wide varieties of wilderness.
Waking up in New Zealand is like waking up in a paradise. The locals welcome you with warm hugs and broad smiles! They are remarkably proud of their culture and have rich tales to share about their history and their plans for the future.
Green hills, majestic mountains, breathtaking views and incredible diversity of landscape; New Zealand is the perfect destination to kick off every wish on your bucket list. So, your trip to this paradise should be a lengthy one and with your energy raged to the peak!
Here are the 10 adventure experiences in New Zealand
Zorb in Rotorua

Imagine getting into a human-sized hamster ball and being pushed down a hill. Sounds crazy or fun crazy? You can't help but laugh and squeal like a child as you roll down the topsy-turvy hill! Who would want to miss out on this insane piece of the action? Zorbing down the mountain will make anyone feel like a child. Prepare to have your childhood back.
Campervan Route

Great journeys are not just planned, they are made. If you claim to have a love for wanderlust, then you have to be a person who appreciates the quiet trails and someone who finds sense in the notes the birds sing. It is like being able to live the journey and building a romance with the horizons beyond. You can be driving through a valley, with the mountains soaring either side, then round the corner to find a wild coastline or the tip of a glacier field.  New Zealand cramps a world full of drama in small proportions!
Try the Te Anau to Milford Sound Drive, a stunning route that will lead you through beech trees into the golden meadows of Fiordland National Park, before winding down to the Sound. Or the Coromandel Peninsula on the North Island. Extending from Waihi in the south to Port Jackson in the north it is a superb, forested mountain drive and sees how this place captures your heart.
Jump off the cliff in Queensland

Being the adrenaline spot capital of the world, this is the country that gave us one of the most extreme of sports.
Yes, you guessed it right! BUNGEE JUMPING it is! The biggest thrill from bungee jumping undoubtedly comes from the free-fall and rebound. Afterward, you fly upwards again as the cord recoils and then oscillate up and down until you've used up all your energy. This is the beauty of this sport, it makes you live in the moment and keeps yours over analyzing mind at rest. This is a must do adventure activity as you jump directly into the face of fear.
 Go Jet Boating

Hop on to explore the sturdy Huka Falls on the North Island or canyon-clad Shotover River and glacier-fed Dart River on the South Island. The New Zealand Jet Boat ride will take you powering through the narrow river gorges, almost brushing against sheer rock faces or skimming smoothly across the water channels. The best thing about Jet Boating is, it is suitable for all ages and levels of fitness and can be enjoyed the whole year round.
So, sit back, buckle yourself in and feel the smooth swaying acceleration through the perfectly braided rivers!
Get on your bike
New Zealand is the epitome of experiences for all kinds of cyclists, from the rough riders looking for the new white, knuckle ride to those who enjoy a little bit of sophistication with a calm environment with the combination of a smooth ride and a likeliness for wine tasting.
The Alps 2 Ocean ride passes through some of the South Island's most stunning scenery while the Hauraki Rail Trail showcases the North Island's stunning the Coromandel Peninsula.
Bodyboarding at Ninety Mile Beach

Ninety Mile Beach is on the Western Coast at the top of the North Island and stretches from just west of Kaitaia towards Cape Reinga and is actually only 88 miles long! Each activity ranges from swimming and fishing to bodyboarding down the huge sand dunes – a favorite experience amongst all of those who get to experience it.
The most physically fun activity that is a 'sport' or recreational hobby called, "bodyboarding." Bodyboarding is such a rush, no matter how big the waves you are on. Bodyboarding is something that people of any age can take part in.
Black-water rafting in Waitomo

Now for a really bizarre experience. The caves at Waitomo are remarkable in their own way, but to your surprise are hundreds of glow worms covering the walls and the ceilings. They light up your way like the tiny stars on a dark night. This place gives you an experience of subsurface trippiness as you proceed your way out of this labyrinth; whichever way you want – on foot, by boat or by black-water rafting.
Skydiving over the Southern Alps in Queenstown or Wanaka

If you wish to experience Skydiving, do it over some epic landscapes. The mountains around Queenstown and Wanaka make really appealing companions as you drop back to Earth. Nothing makes it better than hurling yourself out of a plane and taking a leap of faith!
White Island Volcano

This hidden sight is one of a kind. Inch closer to danger with every bold step you take. This volcano is located on a private island. Go here, put on a mask and begin your walk. Your eyes will stream, and your throat will burn. The sulfur fumes get more massive, and everything gets brighter. Some daredevils try out sulfur. It tastes like it is shutting your throat but is actually healing wounds. This experience is not one many people get. It is an adventure of a kind. And it makes for a lip-smacking story in a family dinner.
Off-Road Drive
To the traveler of all travelers, going according to built roads is nothing but mediocre. They prefer to take the road less taken. New Zealand is a gold mine for these people. Gear up and prepare to weave through a network of hidden highways and country roads. Going off the streets and into the wilderness. Cruise through the dunes and experience what New Zealand actually feels like.
New Zealand is rightly known as the capital of adventures. There is no limit to the kind of fun you can have here. From a quiet, isolated experience to squealing with delight as you hurl yourself in some direction. New Zealand has it all.
Go and unleash the goods that this country has to give.
Happy Adventuring!