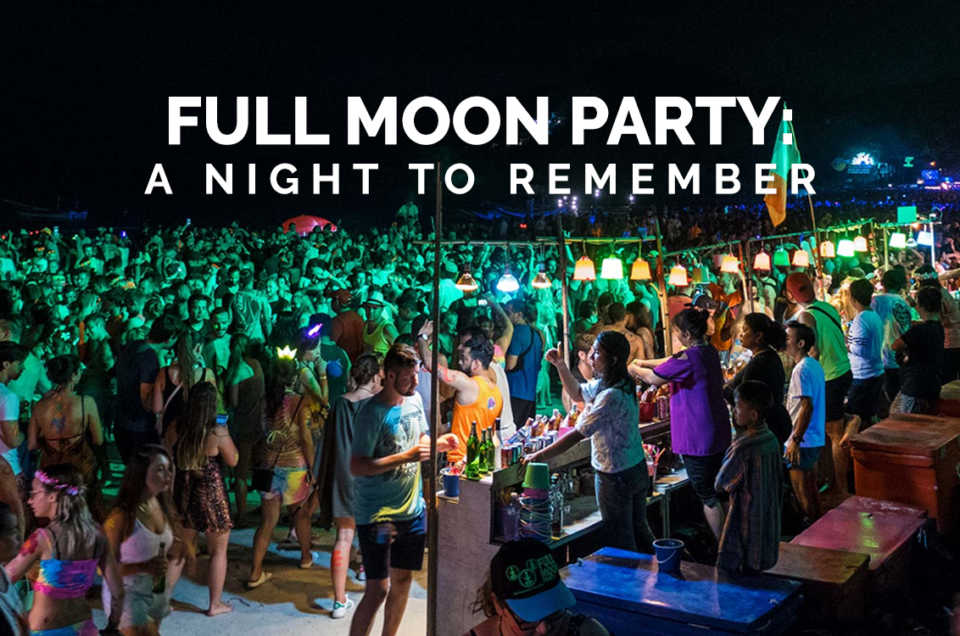 The ground vibrating, noise and disarray, bodies on the sand, fire all over. Thought we are talking about a disaster, didn't you? Oh well, no we are talking about this gigantic party which is held each month around the full moon night, and a great number of people from everywhere throughout the world come here to be a part of this insane party and dance the night out. For some people, this party is the main motive to visit Thailand. Yes, it's the FULL MOON PARTY.
Everyone has heard many legendary stories of the infamous Full Moon Party in Thailand.
Caught wind of the Full Moon Party but don't really know what the hype is all about? Nothing to worry this blog is going to entice you and you are going to book your tickets faster than you realise.
Nobody truly knows when The Full Moon Party began, however apparently it started during the '80s with a few people throwing a birthday party for their friends. They had so much fun that they returned again the next year – which at that point transformed into a monthly occasion. Today over 30.000 people celebrate this big party right at the beach and have a great time.
Haad Rin in Koh Phangan, is where the Full Moon Party happens. It is a standout amongst the most celebrated party beach towns on the planet with Spain Ibiza and Greece Mykonos. All things considered, what's not to love about a night of celebration and partying at the beach, not simply a party, the most splendid party on the planet! The party has everything a twenty something everyone and anyone would love – music, dancing, alcohol and add to that, a dimension of madness which is unparalleled.
Best time to join the party would be outside of the stormy season, which typically begins in November and finishes in January. April all through July is the most hottest time. Great time for partying when it's not all that hot and wet would be between February to April.
Unlike others parties, FMP has a dress code. Don't worry, it's super cool.
You can't be at the Full Moon party unless if you're dressed head-to-toe in neon. You can purchase garments from various shops selling the Full Moon party clothing. A Full Moon night party is nothing without body and face paint. There are people who can paint your body. You can likewise wear neon bunny ears, green veils or neon masks.
Don't have a plan on where to begin and how to go about the trip? We've got your back here is MLMT presenting a plan for your convenience.
DAY 01: ARRIVAL IN KOH SAMUI 


Upon arrival as you finish your airport formalities you'll be transferred to your hotel in Koh Samui. By afternoon the day is free for you to roam around and explore the city on your own. You can also shop around the local markets at Koh Samui.
DAY 02: KOH SAMUI CITY TOUR


Today after breakfast you'll leave for the samui island tour. This tour will make sure that you'll see the most interesting and unforgettable sights of the island also pay a visit to the famous Big Buddha, go shopping at the local market in colourful Nathon Town, visit the Kunaram Temple. You'll return back by evening at your hotel.
DAY 03: ARRIVAL IN KOH PHANGAN AND FULL MOON PARTY


Today after breakfast you can roam and shop around the city on your own. By evening you'll be leaving for the world famous party like no other which is the full moon party. At the Full Moon Party you will mostly hear electronic music: techno, house, trance, psy-trance etc. Later as the party ends you'll return back to your hotel.
DAY 04: DAY TRIP TO ANG THONG MARINE NATIONAL  PARK


Today morning you'll be transferred by a ferry to Koh Phangan island. Upon arrival in Koh Phangan you'll head to the Ang Thong Marine National Park, where you can explore 42 Islands also you will be doing some some water activities as well. By evening you'll be transferred back to Koh Samui
DAY 05: DEPART

Today after breakfast you'll depart for your home country. With all these memories created during the trip
The Plan dates are from 17th April to 21st April.
The Full Moon Party is and ought to be a fun ordeal. Try not to misunderstand the impression: It is commonly a well-intentioned occasion. Be that as it may, putting a huge number of intoxicated individuals into one spot will undoubtedly create some bad situations which you might like to avoid at all costs. Here are some tips to stay and have fun at the same time:
You might feel sweaty and hot due to all the alcohol and dancing and you might also feel like taking a dip, not a very wise choice. The moon influences tides and makes solid currents; don't go for a swim while under the influence of alcohol.
Drugs of all kinds are banned in Thailand and a punishable offence if found guilty of doing some. Stay away from people selling drugs because you don't want to turn your "fun time" into "jail time".
STAY AWAY FROM FIRE ROPES:
The fire hop rope is a fascination amid the gathering, Stay away from it if you don't want to end up with serious burns and then waste the rest of your vacation in a hospital.
Do not take anything to the party that you care about. This rule applies to money more than necessary, phones, cameras, sunglasses, and footwear.
Watch out for your alcohol as bucket drugging is normal. Getting them from trustworthy spots is more secure than from the numerous shacks with funny names on the shoreline.
Apart from the Full Moon Party, there are many things to do and places to visit in Koh Phangan. Here is a list of places you can visit to make your visit worth it and enjoy Koh Phangan to the fullest.
Thong Sala night market
Ban Tai Beach
Thong Nai Pan Noi and Thong Nai Pan Yai
The Challenge Phangan Waterpark
Go to the Herbal Sauna Baan Tai
Amsterdam Bar
C&M Study Center
Phaeng waterfall
Isn't all this enticing enough? What are you thinking? In the end the only regrets are the chances we didn't take! What better offers will you get other than this. A crazy trip is where you make a lot of memories. No one in life looks back on their life and remembers the night they got plenty of sleep. So go for it! Enjoy life while you are it!