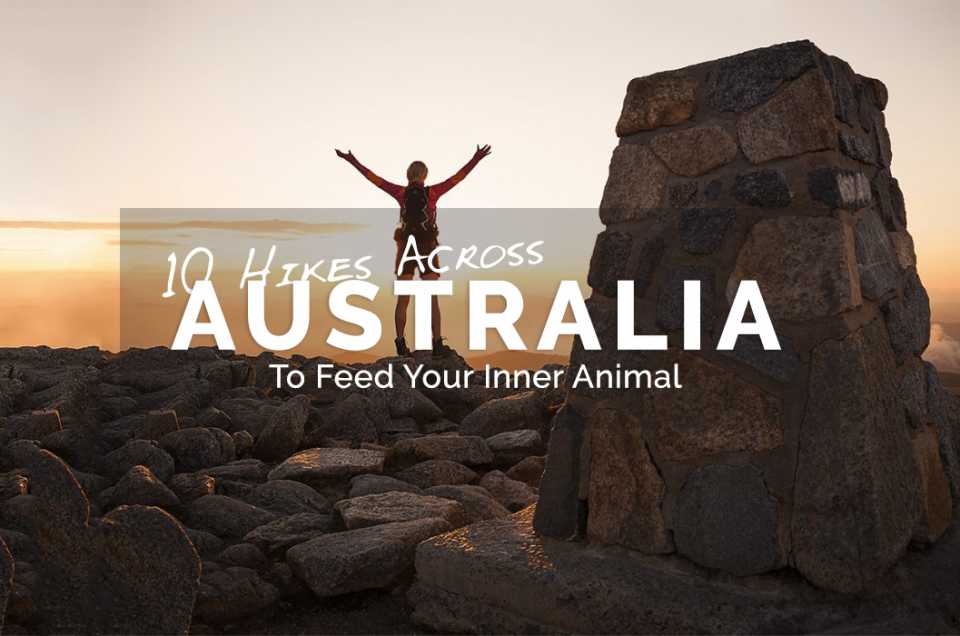 Australia is the adrenaline capital. Sweat drips as you climb higher than before. Laughter echoes in all the crevices and walls of this country. Not one moment in Australia is uneventful. The view at the top, veins cruising in your body, is something that cannot be put into words. Australia is a treat for all your senses. For the trekker, this place is a constant run. From ridges to lakes, open planes to oceans.
Step in your boots. Put your backpacks on. Run across the lands. Unleash the wilderness nestled in your heart. MLMT gives you this dose of happiness shot right through you.
There are so many places to hike across. Here are a few doses in small amounts to start you off.
1. Overland Track, Tasmania



In the midst of Tasmania, endurance awakens. It is a trekking experience to top all others. The Overland Track covers over 65 km. It takes you through the Cradle Mountain and Lake over six days. This part falls under the World Heritage Area. Walkers can do it all on their own, but they must book with the Parks and Wildlife Services or with their guided operators.
Some things to look out for during this trek are Marion's Lookout. The Cradle Mountain grabs all your attention when you are here, Barn Bluff, the stunning D'Alton and Fergusson falls. Lord of Rings takes its stand here. One of the towers here is nicknamed the Gates of Mordor. This is one trek you want to book right away.
 2. Larapinta Trail, Northern Territory



The winds graze your face and push your hair to tickle your face. Rugged terrains transport you to the set of an action-packed movie. The ancient ruins beckon you to come forward. This trek is a part of the Northern Territory in Australia. This trek is a remote one. Hence, the best way to deal with this is to go with a group. World Expeditions handles this trek. It is one of their best worldwide.
Go westwards from Alice Springs and experience the wild like never before. Experience the splendor of Simpsons Gap, Standley Chasm and its brilliance. Finally, ascend Mount Sonder and finish this trek at the very top of your spirits. This trek is your getaway.
3.Great Ocean Walk, Victoria



This one defies the laws of the earth. It takes us beyond the constraints of what roads have to offer. The Great Ocean Walk lives up to its name, and it does a lot more. It stretches about 104 km far beginning from Apollo Bay and goes towards Cape Otway Lightstation. Gum and eucalyptus forests run haywire. Sand dunes and beaches give this place a shine like never before.
Shipwrecks scatter everywhere, the magnificence of the Twelve Apostles will stun you. The limestone sea stacks are something else altogether. There is a shuttle service here to transport gear from one place to the other.
4. Six Foot Track, New South Wales
When you enter the Jenolan caves, you are a part of something bigger. This becomes the spectacular thing it was in 1884. A six-foot-wide cave was dug out to allow the rapid transport of horses laden with goods from Katoomba to the Jenolan Caves. This cave now forms the Six-Foot Track in the Blue Mountains. The name itself makes it a part of an Indiana Jones movie.
The hike itself takes about three days and two nights. It spans about 44 km and begins at the Explorer's Tree. It challenges the walkers with its complex and uneven terrains. This is not just a hike or even a trek. This is a rollercoaster.
5. Cape to Cape Walk



For those ever-ready protesters, this challenge is open for you. The walk from the lighthouse of Cape Naturaliste to the tower of Cape Leeuwin is no common fate. The 135 km walk that follows the ridges is only for the best of the best. The trail goes on for about seven days. You can do it independently but guided tours with day pack of food and accommodation are included in this.
This walk takes you everywhere. Cliffs overlooking the oceans. Follows the coast. Crosses tranquil beaches. Troops are roaming around in the mid of karri forest and staff at both ends for co-ordination. The Cape to Cape walk makes for a great story to tell.
6. Kosciuszko Walk, South Wales



Australia's loudest and tallest peak lies here. Just a 14 km trek away. This has become a commercialized walk, but there are still small corners under the rocks. The mount of Kosciuszko goes up to about 2,228 meters tall. The eyes land on granite outcrops, flowers wilder than the country and a shimmering glacially carved lake called Lake Cootapatamba.
There is a small stream running here than people tend to overlook. This stream has attained celebrity status because of Banjo Paterson's poem, "The Man from Snowy River." There is a board at Rawson Pass which leads you literally to Australia's Top party.
7. Kings Canyon Rim Walk, Northern Territory



The Kings Canyon Rim Walk will make you feel like you are a king/queen out in the open with your cavalry to make a conquest. It is your kingdom. The area is reasonably flat, but the way it progresses in a horseshoe manner makes you push your chin a tad bit higher.
The awe after viewing the cliff walls and the weathered, broken dome structures came to be known as the Lost City, and the Garden of Eden will have your mouths plied open. The garden has a tonne of permanent waterholes. Visiting this place will have you worshiping mother nature. Try to stay the night before. Make sure to avoid the mid-day heat here.
8. Dove Lake Circuit, Cradle Mountain National Park



This is a boardwalk of a hike. With only a base number of 6 km, it is an excellent step for beginners. It is also the most famous hike/walk in Tasmania. Just beyond this trek lies the majestic Cradle Mountain. It cradles in its arms beauty and makes it better than ever.
There is a boat shed here in 1940, built by the first ranger ever. Glacier Rock, carries the mark that suggests the Ice Age glaciers. The peaceful, serene rainforest known as the Ballroom Forest is also something to not miss out on. This is one of the most photographed places here and is an overall rich experience
9. Binna Burra to Green Mountains, Queensland
The vast, long Gold Coast Hinterland Walk has this small day hike as a part of it. Australia is loaded with huge, never-ending multi-day walks but the day walks also grab a lot of attention. This 23 km walk takes about six or seven hours in any direction. This depends solely on your guide and group.
This walk takes you through the calm, cool, Atlantic Beech forest. The rainforest with its hidden reserve of creatures leads you onto the eroded volcanic crater. The view is a panorama of Limpwood Valley, Mount Warning and Byron Bay at times too. This walk is an adventure walk.
10. Glowworm Tunnel



A blue tinge lines the walls. Abandoned tunnels in the middle of nowhere. Mossy, dark fungus and its larva secrete a blue haze onto the walls. This hue is a chemical reaction but still will not fail at being spooky.
Walking through this forgotten tunnel can be a creepy experience. Maybe that is why it is on the top. Carry a torch with you on this endeavor. You do not want to be slipping here. It is a 2.9 return walk and will not take longer than 2 hours. But what a hike.
Even after writing these many, Australia is not done. It keeps throwing the best of these expeditions at us.
Let us know what has been your best hiking experience?
MLMT wants to know!
Happy Travel to you!